The price of gold in Vietnam sprang by VND1.5 million a tael (1.2 ounces) over the previous day on September 3 as global price jumped the second day on concerns that global economic growth is faltering.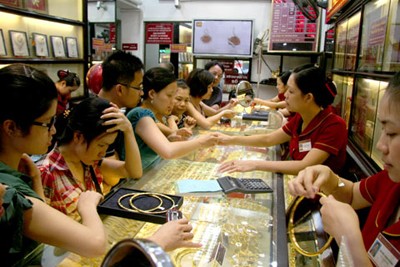 Customers buy jewelries at a gold shop.
Saigon Jewelry Company, the biggest gold shop in Vietnam, bought gold at VND47.8 million and sold at VND48.1 million at 10 am local time.
Hanoi-based Phu Quy Jewelry Company purchased SJC-brand gold at VND47.7 million and sold at VND48.4 million at the same time.
Domestically, gold fetched around VND700,000 a tael higher than global price.
On foreign currency market, the dollar exchange rate slightly inched up on free market. The greenback was bought at VND20,920 and sold at VND21,020.
Internationally, gold headed for the biggest gain in three weeks after a report showed that employment in the US unexpectedly stagnated in August, bolstering demand for the precious metal as a safe-haven.
Labor Department data showed that unemployment rate remained at 9.1 percent and payrolls were unchanged, the weakest reading since September 2010. Around 58,000 jobs were cut in June and July due to eroded confidence in the economy.
Gold for immediate delivery soared as much as $58.8 an ounce, or 3.2 percent, to close at $1,885.2 an ounce on the Comex in New York.
Holdings at SPDR Gold Trust, the largest exchange traded fund backed by bullion, increased by 2.5 metric tons this week to 1,232.3 metric tons.
The euro exchange rate against the US dollar closed week at $1.42 a euro.
Crude oil futures for October settlement lost $2.48 a barrel to close at $86.45 a barrel on the New York Mercantile Exchange.
Next Monday, the US financial market will close for Labor Day.