The city's first gold-bonded warehouse, the second in Viet Nam, came into operation last weekend, aiming to promptly meet the market's demand for gold and stabilize the domestic gold market.
Convenient "door-to-door" service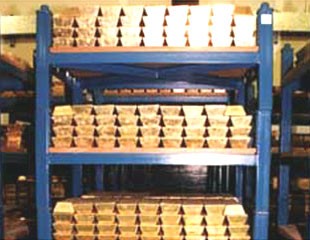 The gold-bonded warehouse will rapidly satisfy the demand for gold, helping to stabilize gold prices
The 500-square-meter warehouse located near the Tan Son Nhat International Airport in Tan Binh District received investment from the Saigon Jewelry Company (SJC) and operated under cooperation with Brink's Global Services, a leading logistics company with 145 years of experience in transporting, storing and handling high-value goods.
The warehouse is capable of storing dozens of tons of gold. It will keep gold for foreign enterprises and export gold to Vietnamese gold traders, and also for Vietnamese banks and companies.
"The warehouse aims to rapidly satisfy the demand for gold; now gold can be traded and delivered within a day, sometimes even half a day. It will help to stabilize the gold price on the city's market," said Nguyen Thanh Long, SJC General Director.
Although foreign gold suppliers and Vietnamese gold traders have had trade ties for many years, delivery of gold still took a long time and could not meet the prompt demands of the market. Therefore, many gold traders lost business opportunities etc, Mr. Long added.
Previously, it took from two to five days to complete a transaction, which included fixing the purchase price, ordering and receiving the gold. The world gold price changes every hour and such a long transaction time caused many traders losses.
From now on, when the gold price is up, importers can take their gold from the warehouse immediately and thus stabilize the market. Their businesses will no longer be affected by fluctuations in the world gold price.
The bonded warehouse will help gold importers enjoy a "door-to-door" service with competitive prices; foreign sellers can now cut down on transport expenses by storing a big volume of gold at the bonded warehouse for quick and safe trade.
There will also be reductions in the shipping and insurance rates, which will drop by up to 40%, from US$1-1.1 per ounce down to US$0.6-0.7 per ounce.
With a close management system and broad relations with foreign enterprises, the HCMC bonded warehouse will help local gold companies borrow gold from foreign banks that have gold available at the warehouse and help facilitate their transactions.
The warehouse will also be a place for foreign enterprises to store their gold for participation in the Viet Nam Jewelry Exhibition, held annually by SJC.
Viet Nam is one of Asia's leading gold markets
The country's demand for gold is increasing. Over 70 tons of gold were imported each year for the last three years.
According to the World Gold Council, in 2006 alone Viet Nam bought 86 tons of gold. Forecasts are for a similar high purchase level this year.
Ben Van Kerkwijk, head of Brink's Viet Nam Inc. said, "We've observed and realized a continuous development of the Vietnamese gold market in recent years, thanks to the Government's supporting policies such as reduction of import tax, adjustment of quota system, and diminution of illegal imports."
"The opening of the gold trading floor last month demonstrated that Viet Nam was used to trading gold through accounts. It's clear that Viet Nam has become known as one of Asia's key gold markets and in the future, the country's demand for gold will remain very high," he added.
To date, over 40 Vietnamese companies have been licensed to import gold into the country and conduct gold transactions on international markets.

The first gold-bonded warehouse in Viet Nam was inaugurated by the Bank for Agriculture and Rural Development's Jewelry and Gems Company (AJC) on June 25 at Ha Noi's international airport.