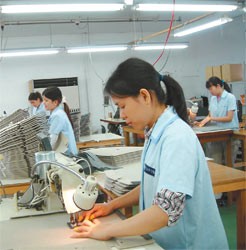 Vietnamese workers work at an auto-component factory in Nagoya, Japan.
A seminar on Vietnamese laborers working overseas has been held by the Ministry of Labor, Invalids and Social Affairs (MOLISA), in cooperation with the Japan International Training Cooperation Organization (JITCO).
Nearly 100 Vietnamese and Japanese manpower export enterprises attended the seminar. The discussion focused on beefing up Viet Nam's manpower export to Japan.
Strict Regulations on Dealing with Decampment of Trainees
There are only 9,500 Vietnamese out of 760,000 foreign workers in Japan, said Mr. Le Van Thanh, counselor, head of the Office of Labor Management. In the first 6 months of this year, nearly 1,500 Vietnamese, out of tens of thousand of migrant workers, came to Japan to work.
Currently the largest number of foreigners working in Japan is from China, with nearly 100,000 each year, while there are only several thousand from Viet Nam. Particularly, only 3,000 Vietnamese trainees were sent to work in Japan in 2005.
Viet Nam has currently adopted many measures to prevent trainees from decampment. Mr. Nguyen Ngoc Quynh, vice director of the Department for Administration of Foreign Employed Labor Force (DAFEL), emphasized that Viet Nam will strictly deal with violations of Vietnamese migrant workers, such as illegal working, breach of labor contract or manpower export contract, and so on, in order to boost the major labor export markets, especially Japan.
Workers who committed the violations shall be required to make compensation for consequent losses or shall be forced to return home. Serious violations would be prosecuted.
In the seminar, Ms. Nguyen Thi Hang, MOLISA Minister, recommended that Japan is determined to deport Vietnamese workers who breach labor contracts. She also asked Japan to extend contracts of those who obey the labor contracts.
Chance for Technical Trainees to Work in Japan
Attempting to look for more labor export contracts to Japan, many local labor export enterprises try to prevent workers from decampment by adopting strict recruitment and making public the expenses to work Japan.
In addition, the decampment of Vietnamese workers in Japan has been lowered since the new regulations by the Government on handling breach of labor contracts and illegally working were adopted.
The JITCO affirmed that if Viet Nam can reduce the decampment of workers, it will be able to capture a better share of the manpower export market in Japan. Japanese organizations appreciated the qualifications of Vietnamese workers.
Mr. Nguyen Ngoc Quynh said that MOLISA has teamed up with the Japanese IMM organization to launch trial a program of sending Vietnamese workers to Japan without fee or deposit. Attending the program, workers will have a job at Japanese companies' branches in Viet Nam, when they return home.
In addition, there are currently negotiations to send Vietnamese workers with good technological knowledge to work as nurse and hospital orderly in Japan. The chance to increase manpower export to Japan is coming. Could it be seized?