The Government will purchase up to one million tons of summer-autumn rice for reserve, while the Vietnam Northern Food Corporation (Vinafood I) plans to buy a large volume of salt produced in Ho Chi Minh City's Can Gio District.
Under Decision 993, signed June 30 by Deputy Prime Minister Nguyen Sinh Hung, the Ministry of Industry and Trade will coordinate with the Ministry of Agriculture and Rural Development (MARD) and the Vietnam Food Association to allocate funds for the purchase of a number of businesses, which will buy rice based on market prices.
The duration for purchasing will be from July 15 to September 15; companies tasked to reserve rice will bear responsibility for the economic efficiency with which reserved rice is traded.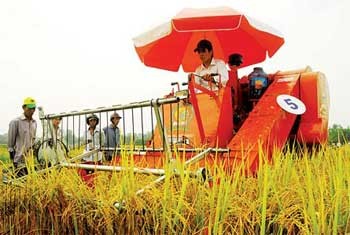 Farmers harvest rice in the Mekong Delta (Photo: SGGP)
In support of the rice reserve plan, the State budget will pay 100 percent of interest accrued from bank loans extended for this purpose.
The duration of subsidized interest will last from July 15 to November 15.
The Ministry of Finance and the State Bank of Vietnam (SBV) will work together to implement the subsidy plan.
The SBV will designate a number of commercial banks to offer subsidized loans to purchasers of rice on reserve.
30,000 tons of salt to be purchased
Vinafood I and the Southern Salt Group Joint Stock Company worked with the HCMC Department of Agriculture and Rural Development and the Can Gio District authorities yesterday on a plan to buy 30,000 tons of salt in the district.
The purchasing price will be either VND750 or VND800 per kilogram, depending on quality.
At such prices, salt producers may earn a 30 percent rate of profit on cost of production, Vinafood I said.
One day earlier, during a visit to Ly Nhon commune, one of the salt production areas of Can Gio District, MARD Deputy Minister Ho Xuan Hung urged HCMC Government to provide support to salt producers according to a recent decision by the Prime Minister.
He asked the city's relevant agencies to work with designated commercial banks to give a 100 percent interest subsidies to farmers who get bank loans for salt production from June 1 to December 31.
A 3-hectare national salt reserve center, with a capacity of 10,000-20,000 tons, needs to be set up in Ly Nhon in the next one or two years, he said.
For the sake of longstanding efficiency, the city should re-organize the salt production in Can Gio based on the application of advanced technologies, he advised.