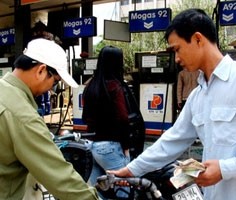 A gas station in HCMC. A new finance ministry's circular permits oil companies to hike retail prices in line with international prices if the gasoline subsidy fund runs out of money. (Photo: Lao Dong)
If the gasoline price stabilization fund does not have enough money to subsidize fuel companies, they can hike prices in case of a surge in global oil prices, the Ministry of Finance has said in a new circular.
Before putting up prices, however, they need to register with authorized agencies.
The hikes are not limited to VND500 a liter, as stipulated now.
But if fund has enough resources, companies will remain bound by the VND500 rule.