The Vietnam Food Association (VFA) in cooperation with food companies in the Mekong Delta on Saturday began buying one million ton of rice for stockpile under a Government direction.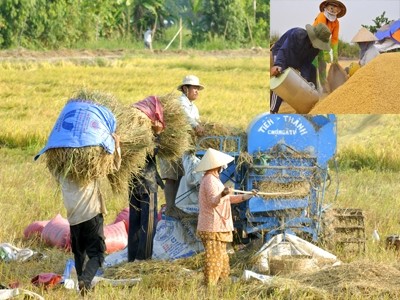 The file photo shows farmers in the Mekong Delta harvesting the Summer-Autumn rice crop. (Photo: Tien Phong Newspaper)
Rice buying campaign will last until the end of July when farmers in the delta completely harvest the summer- autumn rice crop.
The campaign is planned to help farmers protect profit after rice prices have currently decreased because of rice export slowdown.
Food companies have been provided loan with low interest.
Although the campaign has been deployed, rice prices are still under the costs.
Heavy rains for several days have affected rice harvest and made farmers feel sitting on the fire. Agricultural officials in the delta said that if the heavy rains continued for couple days rice quality would be low.
Vietnam has signed agreements to export 4.8 million tons of rice this year and supplied 2.8 million tones already. However, average rice export prices have decreased by US$24/ton in comparison to the same time last year.
Rice exporters said that 70 percent of stockpiled rice harvested in the winter- spring rice crop had still not sold yet and they have suffered from the heavy losses.
In order to reduce rice inventory and purchase rice for farmers, VFA has cut down rice export prices by US$ 5/ton.