The Government will not cut gasoline prices though global prices have been falling since the beginning of July, Deputy Minister of Finance Tran Van Hieu said July 15.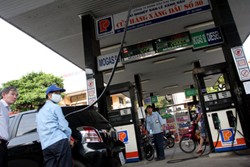 A gas station in HCMC. The government has said it will not cut fuel prices yet though global oil prices are falling (Photo: Lao Dong)
Meeting with officials from the ministries of Industry and Trade, and Information and Communications to apprise them about the gasoline price mechanism, he said the international oil price is just one of many factors in fixing retail prices.
 
To ensure the state, companies, and consumers all benefit, prices cannot be cut now, he said.
Besides, businesses are still paying the Government VND1,000 from every liter of gasoline they sell to repay the subsidies they received when global oil prices were high.
They are paying an additional amount to a fund to stabilize prices when global prices harden again.
In Vietnam retail prices are VND376.5 to VND5,647.6 lower than in countries like China, Laos, Thailand, and Cambodia.
So, cutting prices would only worsen smuggling out of the country, he said.
Mr Hieu said that the Government would let businesses adjust the retail price themselves up to a certain level.