The Government will subsidize rice farmers to ensure they get a minimum of VND3,800 a kilogram for their grain, the Ministry of Agriculture and Rural Development has said following a meeting with ministries and departments concerned.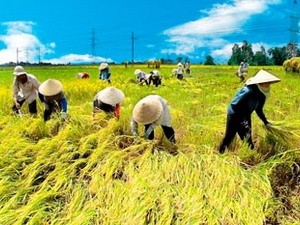 Farmers harvest rice in the Mekong Delta
Its Cultivation Department said for the summer-autumn crop, farmers in the Mekong Delta have sown 18 percent of the land with IR 50404 strain of rice and expect a total output of 1.3 million tons.
They are expected to find it hard to sell this low-quality variety after harvest.
Meanwhile, in recent weeks rice prices have fallen -- a kilogram of IR 50404 has moved down by VND200 since last week to VND4,900.
The ministry has told local administrations to limit farming of this variety.