Government, ministries and local authorities are busy implementing measures to prevent a price insurgence, which usually occurs due to high consumption demand ahead of Tet Lunar New Year.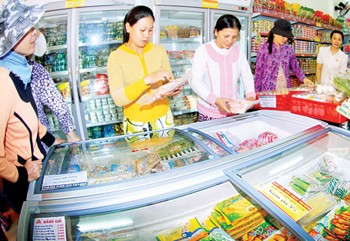 Consumers buying subsidized goods in a shop in HCMC (Photo: SGGP)
Prime Minister Nguyen Tan Dung has instructed departments and local authorities to boost production to balance supply and demand, especially in food and essential commodities. They have been asked to strengthen inspection and supervision, to prevent speculation. Relevant organizations have been asked to keep residents updated on the market conditions and prices.
Most provinces and cities have completed stockpiling of essential commodities ahead of the coming Tet holiday season.
Le Ngoc Dao, deputy director of the Department of Industry and Trade in Ho Chi Minh City said that supplies of rice, meat, poultry and egg are 3-4 times more than required, accounting to 30-40 percent of the market demand.
Total capital required for stockpiling of Tet goods is estimated at VND5.5 trillion (US$262 million), of which VND3 trillion is for commodities listed in the price subsidized program.
Bui Hanh Thu, deputy general director of Saigon Co-op said that the supermarket chain has stockpiled 24,000 tons of goods worth VND2.8 trillion ahead of Tet, with domestically produced commodities accounting to 95 percent.
Nguyen Van Dong, deputy director of the Hanoi Department of Industry and Trade said that Hanoi plans to prepare over 65,000 tons of food items in preparation of the coming Tet holidays.
Supply to the inner city areas will be from subsidiaries and shops of the Northern Food Corporation and retailers in markets and residential areas.
Businesses under the price subsidized program have been asked to double stockpiles of essential goods, with the city offering support on capital for the purchase. Management boards of markets and trade villages are responsible to instruct households to prepare products like meat, poultry, vegetables and fruits for Tet.
The department said that prices might increase by year end as world prices climb and with inflation being very high in several countries. Natural disasters have also affected farm production in several provinces in Vietnam.
However, Hanoi will make efforts to supply enough commodities and keep the increase on the consumer price index at its lowest level in January next year, particularly during Tet.
Since September, supplies of essential goods have improved with stable prices in Hai Phong City. The city authorities have cracked down on fraudulent trade practices and have taken measures to curb smuggling.
 
Businesses themselves have said that preparation of goods for the coming Tet holiday season is advantageous for domestic households as many beautifully designed goods and house decoration items take precedence in markets over foreign made products.
 
Price subsidizes play an important role in ensuring that inflation this year remains at 18 percent as per targets set by the National Assembly and the Government.
According to the Ministry of Agriculture and Rural Development, supply of pork will be enough for Tet consumption as by November, the volume of pigs raised in the country increased by 4.4 percent over October.
Chickens too increased by 4.7 percent in volume last month reaching 335 million. Supply of beef and rice will also meet demands during Tet.