The Vietnamese government has rejected AirAsia's plans to open a joint venture carrier with Viet Nam's largest shipbuilder following fierce oppositions from two domestic airlines that the venture would only serve to exploit 'domestic trademarks' and 'dodge' rules.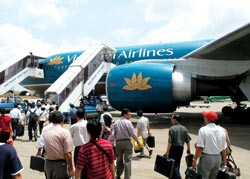 Vietnam Airlines passengers at an airport
Malaysia's AirAsia, the largest budget airline in Southeast Asia, inked an agreement with state-owned Vietnam Shipbuilding Industry Group, or Vinashin, in early September to establish the US$30 million low-cost airline, to be named Vina AirAsia.
Sources said Vina AirAsia was meant to boast a fleet of nine aircraft and to become Vietnam's second budget carrier after Pacific Airlines. Under the plan, Vinashin was to hold a 70% stake and AirAsia the remaining 30%.
However, the Vietnamese government officially rejected the proposal last week following fierce oppositions from Pacific and Vietnam Airlines, the two largest domestic carriers in the Southeast Asian nation.
Pacific told the press that Qantas, which last April acquired a 30 percent stake in Pacific for $50 million, was concerned the plan could disrupt Viet Nam's business environment and threaten the country's interests in addition to Pacific's development and survival.
Pacific, the country's only budget airline, also said that the proposal would be a bad precedent for other foreign airlines to "dodge" current regulations, which ban them from domestic routes.
AirAsia earlier tried to invest in Pacific but the two sides could not reach an agreement.
Likewise, according to national flag carrier Vietnam Airlines, since they [including AirAsia] could not crack markets in other countries, foreign airlines try to "circumvent this by partnering with domestic firms to establish joint ventures to exploit domestic trademarks".
Vietnam Airlines was also concerned such commercial rights would be negatively utilized.
According to its CEO and Chairman Nguyen Sy Hung, "domestic trademarks are always considered a competitive weapon and an asset of one country".
Vietnam Airlines has failed to obtain licensing to operate a Beijing-Moscow route, he added.
Even the US, which promotes the 'open sky' policy, does not allow foreign airlines to fly domestic routes due to security problems, he elaborated.
"That AirAsia planned to spend just US$30 million, only one third of which would be in cash, to be able to penetrate a domestic market [Vietnam] with over 6 million passengers and sales reaching up to $1 billion a year is too cheap a price". Hung commented.
Meanwhile, in a memo to the Ministry of Transport, the Civil Aviation Administration's deputy chief Luu Thanh Binh suggested that Viet Nam prioritize licensing domestically-invested airlines.

Another deputy head, Lai Xuan Thanh, said that trading in air transport is "conditional" and must be granted a license by the Minister of Transport and the Prime Minister.
"The government must take into account the strategy and orientation for the aviation industry.
The establishment of many air carriers in a short period could lead to unhealthy competition for human resources and could harm flight safety", ha added.
Therefore, the Aviation Administration would be expected to grant licensing to three more domestic-owned airlines at most from now till 2010. It has already received two proposals to form the Phu Quoc and Vietject airlines, both Vietnamese-invested.