Despite Government insistence to restrict import of non-essential goods in 2011, imports continue unabated.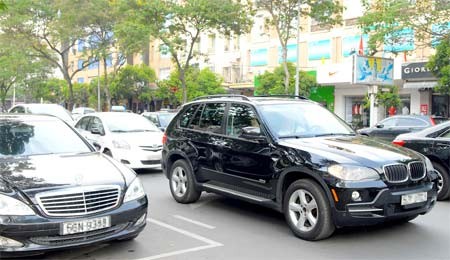 Car imports rose sharply in the first two months of 2011 (Photo: SGGP)
Imports in the first two months of this year have soared sharply as compared to the same period last year.
 
The Government advocates restricting import of essential goods to allow local home made products to reach the local markets with an aim to boost economic growth.
 
Products that cannot be made well or in sufficient quantities within the country should be given priority for imports.
 
Products such as various kinds of equipment, materials, state-of-the-art technology, fuel, fertilizer, steel, textile and garments can be imported, as the country is unable to supply adequate amounts.
 
Import of unnecessary commodities like cigarettes, consumer goods, small automobiles of less than 12 seats, auto parts, motorbikes, cosmetics and alcohol beverages must be locally made.
 
According to the Ministry of Industry and Trade, import turnovers of non-essential goods reached nearly US$1.1 billion in the first two months of 2011, accounting for 7.4 percent of the total import turnover and up 24.8 percent year-on-year.
 
As many as 10,600 autos worth US$180 million and over 266,000 mobile phones worth US$7 million were imported, a year-on-year rise of 177.4 percent.
 
The import of luxurious goods also soared sharply, with a total turnover of US$3.42 million, an increase of 36.1 percent over the same period last year.
 
Cosmetic imports rose 111.3 percent and hair product imports jumped 69.9 percent.
 
The hike in import of non-essential goods has raised concerns that relevant agencies might not be strictly controlling the import of goods and people not being encouraged to use domestically made goods.