Le Minh Hung, deputy governor of State Bank of Vietnam, yesterday replied to questions at a press conference regarding concerns as to which gold brand will be selected as a state brand, with many consumers still holding gold bullion of different brand names.
These answers have been long awaited after Government Decree 24 was issued on management of gold trading activities effective from May 25, 2012. However, till this point many people who owned non-SJC gold bars remained anxious of their fate. Of late, people even worried as some gold shops did not accept or paid low prices for defective gold bars.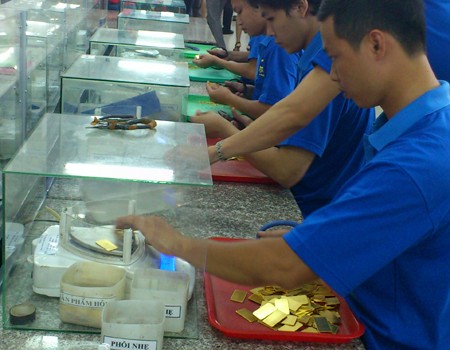 Producing SJC bars
Mr. Hung stated that under Decree 24, the government will monopolize processing of gold bullion, and has assigned the Central Bank to manage the gold trade market.
Consequently, all licenses granted to gold manufacturers, including Saigon Jewelry Co (SJC), have expired since the issuance of Decree 24. Mr. Hung stressed that at the moment, even SJC is not allowed to process new gold bullion.
However, with SJC holding 95 percent of the gold bar market, and enjoying a credible reputation for quality, the Central Bank has decided to appoint SJC as the State brand for gold bullion, said Hung.
SJC is allowed to continue its gold trading activities, except for making new gold bars, as this is something that will be exclusively implemented by the Central Bank, he added.
Responding to the public complaint that SJC is now refusing to buy back defective SJC gold bars, Hung said the Central Bank will allow the company to reshape the bars to protect consumer rights.