"I feel saddened every time I go there. There is a large proportion of imported goods on the shelves of foreign-capital-backed trade centers", a senior official recently lamented about the influx of foreign products onto the Vietnamese market.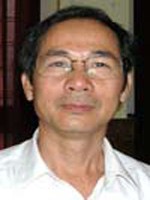 Mr. Tran Vinh Nhung, deputy director of the HCMC Trade Department.
Mr. Tran Vinh Nhung - Deputy Director of the Ho Chi Minh City Trade Department told Sai Gon Giai Phong that domestic goods are gradually losing their home advantages.
Thanks to financial strengths, foreign businesses have been able to lease prime shopping locations, Mr. Nhung added.
He partly attributed such foreign product dominance to Vietnamese authorities' incompetence in ensuring a reasonable proportion between foreign and domestic products.
To enter the Vietnamese market, foreign investors, especially in retailing, have to commit to distributing their products only up to a certain ratio in proportion to local commodities, he explained.
This aims at stimulating domestic production growth and helping protect domestic producers during the early period of WTO membership. Viet Nam has been joining the World Trade Organization for only a year now, he added.
But now, due to authorities' negligence in supervising and inspection tasks, foreign investors have been able to go back on their agreements and distributing their products en mass to flood the market, he elaborated.
"We just grant investment licenses and seem to ignore if they [foreign firms] are committed to those rules [restricting foreign goods supply] or not", the deputy director complained.
"If they severely breach the agreement, their licenses should be withdrawn. It is not right to grant them life-time licenses if they continue to do like now".
Besides, Mr. Nhung expressed his worry over many constructions of trade centers in the city recently. And since their owners are entitled to set renting prices, they tend to lease them at high rates for fast returns and profits, meaning most local enterprises are shut out from humble cash.
"I think we should take into account the interest of consumers and local businesses before building any more trade centers."
 
But Mr. Nhung also admitted to Sai Gon Giai Phong that "we have to change ourselves accordingly" in light of the new global economy.
He advised domestic businesses to take the initiative in embracing new technology, improving quality and diversifying products to horn their competitive edge in the new integration period.