The Government will sub-contract some public services to the private sector and concentrate efforts to help enterprises restore production and improve business.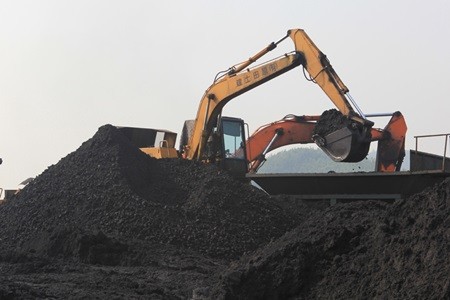 The PM said that the two-year (2014-2015) restructuring programme for State owned enterprises should be completed on schedule. — VNA/VNS Photo Trong Dat
In a new resolution that sets out the broad agenda for 2015 and provides instructions to different ministries and agencies, it said an improved performance by enterprises were key to the nation achieving its socio-economic targets for 2015, including a GDP growth of 6.2 per cent.
The Government Resolution (01/NQ/CP) also aims at a 10 per cent increase in export turnover; a five per cent trade surplus, inflation kept at five per cent; an investment of 30-32 percent of the GDP in social development; a 1.7-2 per cent reduction in the number of poor households (4 per cent in districts designated poor); and the creation of 1.6 million new jobs.
The PM has asked the State Bank of Viet Nam to co-ordinate with ministries, other agencies and localities in implementing monetary and financial policies in an active, flexible manner to keep inflation under control while maintaining macro-economic stability, stimulating economic growth and supporting development of the financial and stock markets.
He stressed the importance of adopting appropriate policies on lending and borrowing rates as well as foreign exchange rates.
The central bank should also work closely with ministries and agencies and come up with practical measures to promote non cash payments, he said.
Thrifty, efficient
The Ministry of Finance has been asked to work with other ministries, agencies and localities to manage and control State Budget spending.
The PM has directed leaders of all Government agencies and localities to practise thrift in recurrent expenditures and submit quarterly financial reports to the Ministry of Finance that will be consolidated and submitted to him.
For special circumstances and tasks including natural calamities, epidemics, national defence and security, budget proposals have to be submitted to the PM and the National Assembly for consideration and approval.
Market watch
The Ministry of Trade and Industry should work closely with other agencies and localities to monitor market developments and make timely adjustments to ensure balance in supply and demand and avoid price fluctuations, particularly during occasions like major festivals including Tet (Lunar New Year), the PM said.
He also instructed the ministries of Finance, Trade and Industry, Public Security and Defence to work closely with other ministries, offices and localities to ensure transparency and accountability in managing the prices of energy, commodities and important and essential services.
Trade balance
The Ministry of Trade and Industry should facilitate all export promotion measures, especially those targeting markets with a lot of potential, the PM said.
He said the trade ministry should also be proactive this year in making progress on negotiations for Free Trade Agreements (FTA) as well as other pacts that "will find more markets for our agro-forestry and fishery products while trying to provide reasonable protection to commodities facing disadvantages."
The Government will encourage enterprises to increase the use of domestic materials in making export products, reduce line assembly work as well as the export of raw materials.
He stressed the need for quality control at cultivation, harvesting and processing stages for export commodities.
Bad debt cap
Favourable conditions have to be created for enterprises, co-operatives and households to access credit for restoring and expanding their business as well as applying advanced technology, the PM told the State Bank of Viet Nam.
He also said: "It is expected by the end of 2015, our bad debt will be capped under three percent while a legal framework for buying and selling debts and assets will be completed."
With this, all activities relating to buying and selling bad debts would operate in line with the market economy, he added.
SOE reform
The PM said that the two-year (2014-2015) restructuring programme for State owned enterprises should be completed on schedule.
"But for 2015, the main task is to review, categorise and adopt supplementary plans for further restructuring of SOEs following 2015," he said.
"More efforts must be focused on restructuring SOEs in the agriculture industry, encouraging development of supporting industries and using renewable energy," he added.
Restructuring efforts in 2015 will also extend to the stock market so as to mobilise more capital from domestic and foreign investors, he said.
More autonomy
Government offices will be given more freedom to make decisions on performing their missions, hiring personnel and managing their finances. This will be done in accordance with a road map approved by the Government.
In 2015, some public services will be sub-contracted to the private sector, but the Government will closely monitor and supervise this process to ensure fairness and high quality.
Social security
The PM pledged that the Government will take "all measures" to ensure social security and provision of welfare this year.
He asked the Health Ministry to work closely with other agencies and localities to improve healthcare services and enhance the work of the preventive medicine sector so as to prevent major epidemics. The ministry should be well-prepared to manage contagious diseases and stand ready to respond to any emerging epidemics, he said.