At the International Travel Expo at the Saigon Exhibition and Convention Center in Ho Chi Minh City, local wood furniture manufacturers and handicraft businesses were warned to offer competitive export prices for the US market, so as to avoid anti-dumping lawsuits.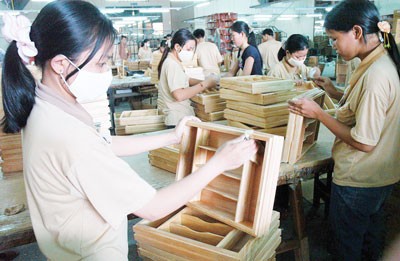 Wooden furniture exporters need more support from the government (Photo: SGGP)
The Vietnam Trade Promotion Agency said that 76 wood furniture items coding HS bound for the US market, accounting for 24.6 percent of total exports to the US, were in high risk of facing an anti-dumping lawsuit by US authorities.
Bach Van Mung, head of the Vietnam Competition Authority, said the trend was for commodities to be exported to many countries in the world, thus helping enterprises expand their production and create more jobs for Vietnamese laborers.
Along with the positive side, there is a growing worldwide trend that more and more countries adopt the policy to protect domestic production. Accordingly, more foreign businesses have banded together and filed anti-dumping petitions against Vietnamese exporters.
From 1994 to 2007, there were 20 anti-dumping lawsuits against Vietnamese commodities. Within three years, from 2008-2011, Vietnam faced 10 such suits and in the first six months of the year, there were two anti-dumping suits against Vietnamese exporters.
Vietnamese wood furniture is one item at high risk of facing an anti-dumping lawsuit, although profits in this product is less than 5 percent, since 80 percent of the raw material has to be imported, according to the Vietnam Timber and Forest Product Association (Viforest). Vietnam ranks second in Southeast Asia in terms of wood products exports, shipping goods to 120 countries.
Exports of wooden furniture totaled US$1.82 billion in the first eight months, up 20 percent year-on-year. The industry hopes to increase that to $3.1 billion this year and has enough export orders on hand to hit the target.
These lawsuits will place enterprises in difficulties in operations and if they lose the case in court, they will forfeit a high anti-dumping tax that will totally destroy their competitive ability. For instance, the US has imposed new anti-dumping taxes on Vietnamese pangasius since 2002 and an anti-dumping lawsuit against frozen warm water shrimp in 2003. Recently, some more new commercial protection tools appeared along with threat of anti-dumping lawsuits.
Since Vietnam is not recognized as a global market economy nation, some countries take advantage and file anti-dumping lawsuits. Vietnamese businesses only concentrate on expanding markets rather than gather information of countries that they intend to export to.
As a result, since 2008, the Ministry of Industry and Trade has unveiled a new early warning system to inform businesses about possible anti-dumping cases in foreign markets. The system works on data from foreign markets which includes quantity of commodities, domestic production decline and price decrease.
The color-coded system is available on the website www.canhbaosom.vn and its English version, www.earlywarning.vn. The website categorizes export items in three colors: green for low risk of being sued, yellow for medium risk, and red for high risk. Based on this, businesses can make timely price adjustments to avoid legal proceedings.
Vietnamese firms have so far faced 36 anti-dumping and anti-protection lawsuits since 1994, mostly by the US and the EU, according to the Vietnam Chamber of Commerce and Industry.
The new system has been set up under a project financed by the Danish-funded Global Competitiveness Facility.