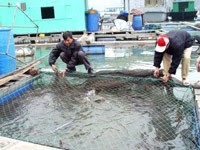 Farmers are raising catfish in cages along many rivers in the An Giang province.
According to a recent statistic of the An Giang province's Agriculture and Rural Development Department and Statistics Office, the output of tra and basa catfish was only around 10,183 tons in March and 37,221 tons in the first quarter of 2006, a decrease of 23,264 tons year on year.
Processing and exporting factories in the province are now facing a shortage of around 3,000 tons of material per month.
According to the department, the current total number of catfish cages along rivers in An Giang province is currently 604. The number has decreased to the lowest, down by 1,153 cages compared with that in 2004 and 134 compared with that of October 2005.
The main reason is that the local farmers have gradually canceled their tradition ways of raising catfish in cages due to its ineffectiveness, said the department.