September was chosen as this year's promotion month to accelerate economic growth and attract more foreign visitors to Ho Chi Minh City for shopping; additionally, it aims to encourage city residents to utilize the environmentally friendly products.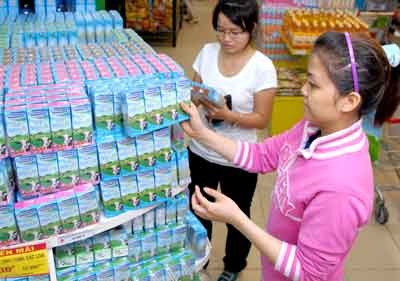 Customers  are choosing dairy products of Vinamilk, one of companies won the green enterprise competition (Photo: SGGP)
Director of the Saigon Co.op Mart supermarket chain, Nguyen Thi Hanh, said that her stores agreed to participate in the program "Consumption of green products" because the supermarket chain is interested in environmental protection. It will encourage shoppers to purchase goods of companies that won awards at the Green Enterprises Competition.
The supermarket chain and the organizers of the Green Enterprises Competition will officially launch the program on September 11 when the organizers will issue 10,000 coupons each worth VND10,000 to customers to buy green goods at stores of the chains.
Furthermore, Saigon Co-op would support the winning companies by display its products in eye-catching sections and will decorate those displays to make them even more appealing.
Furthermore, each client who purchases green products worth at least VND200,000 will receive a coupon of VND10,000 and the chain will present an environmentally-friendly bag to anyone who spends at least VND500,000.
The chains have chosen four winning enterprises, which satisfied all five environmental standards including Unilever, Vinamilk, Colgate Pamolie and Kido.
Any firms found to have violated environmental protection laws are likely to be boycotted by customers and those companies recognized for being environmentally friendly will receive customer support, Ms. Hanh said.  She added that her stores have decided to stop displaying the products of Taiwanese monosodium glutamate producer Vedan Vietnam and have asked the polluter to withdraw its products until the company properly compensates farmers.

Related articles:
Long-term strategy needed to push up consumption of Vietnamese goods
Promotion month pushes up consumption