With the massive floods that inundated the capital two weeks ago causing a shortage, tons of Chinese vegetables are being imported into Ha Noi over the border at Lang Son and Lao Cai Provinces.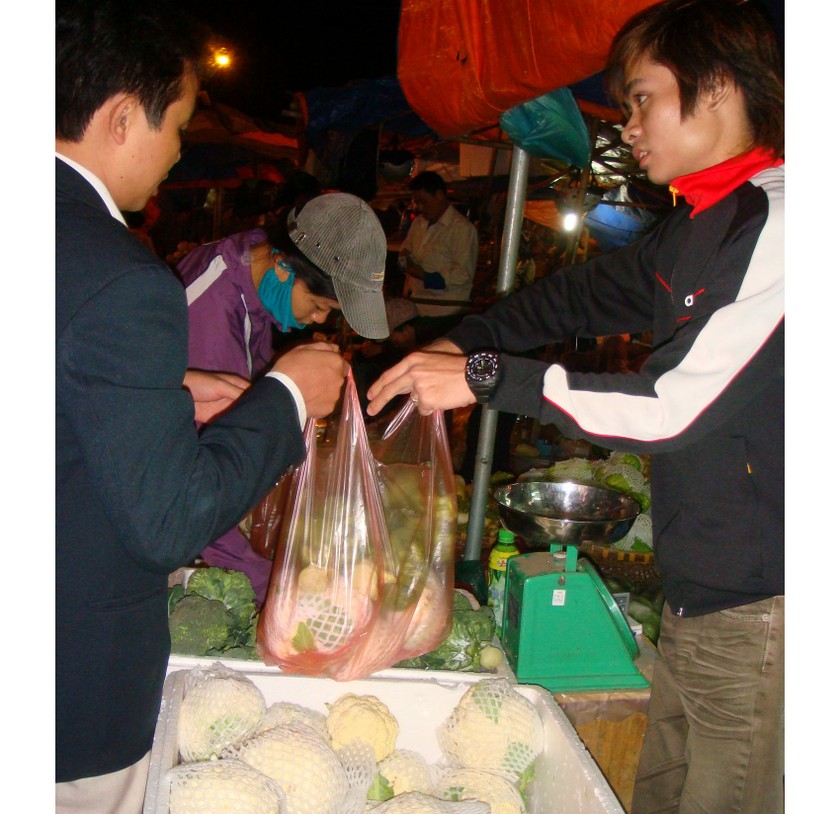 A staff from the Plant Protection Department getting samples for testing at Long Bien vegetable market (Photo: SGGP)
Wholesale vegetable markets Long Bien, Dich Vong, and De Lu overflow with these vegetables, with a seller at Long Bien saying 90 percent of the stuff sold there is from China.
 
A market management official said hundreds of trucks brought them every night.
 
De Lu market sells more local vegetables, however, with Chinese imports accounting for only 30 percent.
 
But most of it comes from distant provinces like Yen Bai, Quang Ninh, Thai Binh, Nam Dinh, and Hai Phong and is not enough to supply an entire district like Hoang Mai.
 
Prices of local vegetables have risen 15-20 percent since the floods and the prices of imports too are rising all the time.
 
Wholesaler Nguyen Thi Hang said a kilogram of Chinese tomato sold for VND6,500 yesterday against VND5,000 two days ago and VND3,000 last week. The prices of others have risen even more sharply.
 
The influx of Chinese vegetables has started to worry consumers since they are tested at the borders for just diseases not insecticide residue.
 
The Plant Protection Department, to allay fears, sent a team to Lang Son Province last Tuesday to get samples for testing.
 
Do Hong Khanh, the team chief, said the test results would be available tomorrow.