Farmers in Hai Duong Province's Thanh Thuy Commune are preparing to export their first lychee crop to the US.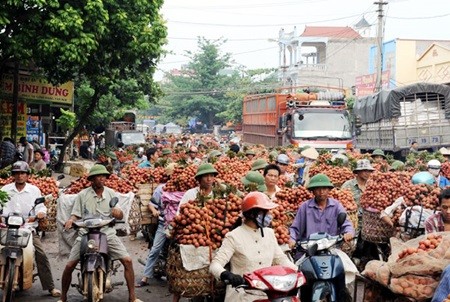 Farmers transport lychees from Bac Giang Province to different areas. This year, farmers in Hai Duong Province's Thanh Thuy Commune are preparing to make their first lychee shipment to the US. — VNA/VNS Photo Viet Hung
One of the busy lychee farmers, Nguyen Thi Lua, was among 87 households in the commune chosen for a lychee-export programme, under which agricultural officials would give her technical support, guidance and safe pesticides to use.
She signed a commitment to follow the Vietnamese good agricultural practice (VietGAP) standards, which meant not using pesticides that contained banned substances. Her family has 19 lychee trees, which yielded 1.5 tonnes of lychee in 2014.
Thanh Thuy Commune has 25 hectares of lychee under the VietGap standards, including 10 hectares for export to the US. Hai Duong Province has 10,500 hectares of lychee, and uses the VietGAP standards for about 1,000 hectares each year.
Trinh Xuan Khoa, vice chairman of the People's Committee of Thanh Thuy Commune, said most agricultural land in the commune had been converted into lychee farms.
Earlier this month, the US inspected and gave codes to two lychee cultivation areas totalling 20 hectares in Hai Duong, he said.
Vu Thi Ha, deputy head of the Hai Duong Agriculture and Rural Development Department, said six agricultural officials had been sent to the lychee fields to work with farmers and advise them on the production process.
This first lychee crop could pave the way for more opportunities to export products to the US.
"We believe that under the VietGap standards, the quality of our lychees will improve and we'll be able to increase prices," Lua said.
Growing lychee is the primary livelihood of farmers in the province. A number of efforts have been made to seek new markets for the product.