Hai Phong needs to have a clear investment mechanism and select projects with practical benefits for both investors and the locality, President Truong Tan Sang said while visiting the northern port city yesterday.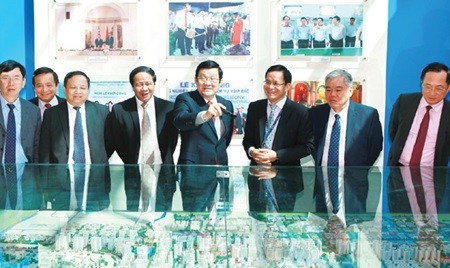 President Truong Tan Sang and delegates visit a project development model at the Viet Nam-Singapore Industrial Park in Thuy Nguyen District of Hai Phong Province yesterday.
He asked the locality to efficiently utilise investment in infrastructure given its strategic position in trading activities.
The President noted that developed infrastructure and transport systems will serve as a premise for Hai Phong to grow in the coming years.
He advised the city to focus its resources on development, planning and policies to develop its strengths and adjust uncompetitive fields.
Regarding a proposal related to co-ordination among the city, ministries and sectors creating Bac Song Cam Urban Area, Lach Huyen Port, HaNoi-Hai Phong Expressway, and the Hai Phong-Thai Binh-Nam Dinh Coastal Road, the president said the city should give priority to urgent projects that can boost the region's economic growth.
Hai Phong City is working to create favourable conditions for the implementation of trade and construction projects that help increase the competitiveness of the municipal economy.
Last year the locality attracted 41 foreign-invested projects, raising the total number to 202 with total investment of US$7.98 billion. Its GDP growth rate reached 10 per cent, the highest in the last four years, while its budget collection was VND56.3 trillion ($2.5 billion), up 14 per cent year-on-year.
The State leader also visited a billion-dollar investment project of Viet Nam-Hai Phong LG Electronics Company in the Trang Due Industrial Zone in An Duong District, and Japan's Kyocera in the Viet Nam-Singapore Industrial Park in Thuy Nguyen District.
He asked LG Electronics to raise its local content rate from 40 to 60 per cent.
He also offered incense at the Trang Kenh relic site in Thuy Nguyen Dstrict to commemorate late President Ho Chi Minh and the three national heroes Ngo Quyen, Le Hoan and Tran Quoc Tuan, who contributed to the country's three victories against aggressors on the Bach Dang River.