Four days after the Prime Minister suspended the export of rice, the prices of husked and unhusked rice in the Mekong Delta have either held steady or gone down a tad.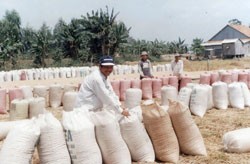 Farmers in An Giang province harvest rice
Standard husked rice is now fetching VND2,850 to VND3,100 a kilo while the superior Jasmine grade has fallen VND50 to VND3,800 a kilo compaerd to November 12.
 
At the Cai Khe exchange in Can Tho City on Thursday, rice was selling for VND4,800 to VND8,500 a kilo depending on the grade.
Growers in Phu Tan, Cho Moi and Thoai Son districts in An Giang Province have harvested 3,500 hectares or 37 per cent of the winter-spring crop, which is so far yielding 3.8 tons per hectare.
The middlemen are paying an average VND2,700 per kilo of husked rice.
This is still relatively expensive since demand always rises towards the end of the year, so it will likely take another full crop before prices drop to more reasonable levels.
Link:
PM Halts Rice Export