In the early 2000s, the handicrafts sector was considered a smokeless industry, economically viable and highly sustainable for the rural economy. However, now the sector is facing difficulties from the recent economic downturn and insufficient interest from the government.
Diminishing orders

Dang Quoc Hung, director of Kim Boi Company, said no bulk orders have been placed in the first five months of the year but instead have reduced by 60 per cent compared to the same period last year. The company now has to shift from exporting coconut coir to other materials to keep the company running, even if there are no profits.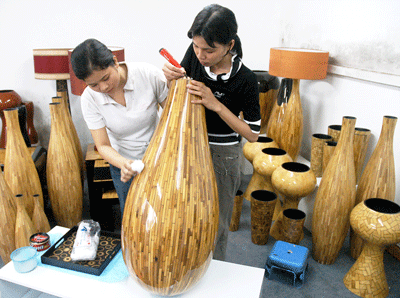 Hand crafting bamboo jars for export to European countries and the US at the Lac Phuong Nam Company ( Photo: SGGP)
The situation is the same in other companies and cooperatives. It seems that heydays of the sector are long over. Until now, only Ba Nhat Bamboo Company is still receiving orders, but the majority of the companies are just about staying afloat.
According to the Handicraft and Wood Industry Association of Ho Chi Minh City (HAWA), around 360 members of the association are operating quite ineffectively. The main reason is that Vietnamese-made products are unable to compete with finished goods from other countries because loan interest rates in the country are so much higher than in other countries, which affects production.
Plus they cannot assess capital as they are all small businesses who don't have property to mortgage to banks as collateral. Meanwhile they are in need of capital as they have to purchase machinery to be able to reduce price and increase production.
Another problem that hinders production of handicrafts is the tax procedure. One bamboo exporter said that the tax sector makes enterprises walk a fine line between being funny and being rude as it requires companies to present red bills, while companies buy most of their material – agricultural waste – from farmers who cannot produce red bills.
Support policies needed

It is high time that enterprises in the association cooperate with each other to become stronger. HAWA plans to construct a handicrafts village in Hoc Mon District of HCMC; however, there are some hiccups along the process.
The handicrafts sector plays an important role in contributing to eliminating poverty in rural areas as it creates many jobs for farmers who have so much free time after harvesting.
In addition, it brings high value in exports as it uses domestic material while other sectors like garments, wood processing and leather shoes have to import materials from foreign countries. For every US$1 million, handicraft exports are about 10 times more profitable than other sectors.
The government should intervene and adopt support policies in capital, premises and other mechanism for enterprises in the association.
Moreover, the government should help in promoting Vietnamese products to foreign partners to attract more customers.