New technological products and services for use in the financial and banking sectors are being showcased at the Banking, Finance and Insurance Expo 2008 that opened in Hanoi yesterday.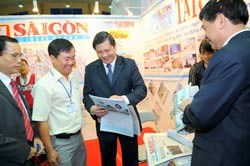 SBV Nguyen Van Giau visits the stall of Sai Gon Dau Tu Tai Chinh, a supplement of Sai Gon Giai Phong newspaper (Photo: SGGP)  
The three-day event features the banking, financial, credit and insurance systems in Viet Nam and has drawn the participation of about 100 leading financial service companies across the country.
The exhibition will also higlight the investment environment and potential in Viet Nam, and present projects that are seeking investors in the banking, finance and insurance sectors.
Some seminars on commercial banking administration, public relations, and trademark building of commercial banks will be held during the exhibition.
The Expo is an annual event co-organized by the State Bank of Viet Nam (SBV), Viet Nam Securities Trading Association, Viet Nam Association of Small and Medium Enterprises and Bac Ha Exhibition Company.
After attending the opening ceremony, SBV Governor Nguyen Van Giau visited the stall of the Sai Gon Dau Tu Tai Chinh (Saigon Investment and Finance), a supplement of Sai Gon Giai Phong newspaper.