The Hanoi Department of Industry and Trade together with relevant agencies have instructed local producers to hold enough stocks to prevent price shocks caused by shortages during the lunar new year (Tet) next February.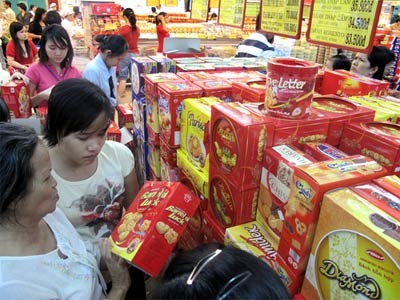 Shopping for Tet at a supermarket in Hanoi
The Northern Food Corporation has made plan to stock 2,600 tons of rice, while Petrolimex Region 1 Company said it will prepare 40 million liters of petrol for the holiday.
Hanoi Beer-Alcohol-Beverage Company will stock over 75 million liters of drinks, and Hanoi Confectionery Joint Stock Company will make 400 tons of sweets.
Some 14 enterprises that are given interest-free loans worth VND400 billion (US$20 million) have already hold enough stocks of nine essential commodities for Tet.
The stocks of essential goods are currently equal to 115 percent of the city's consumption.

The department forecast goods consumption in Hanoi will soar sharply from December 2010 to February 2011, about 20-22 percent, and retail sales will amount to VND20.2 trillion.