Hanoi's exports in the first nine months of 2014 were estimated at over 8.18 billion USD, up 11.6 percent over the same period last year, reported the municipal Department of Industry and Trade.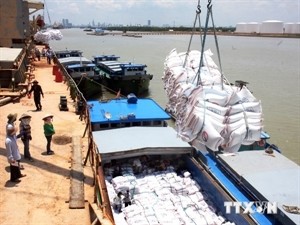 (Source: VNA)
Rise was seen in almost all major hard currency earners, including electronics with 53.9 percent, footwear and leather products, 45.5 percent, fossil coal, 41.5 percent, crystals and crystal items, 22.1 percent, handicraft products, 18.8 percent, and farm produce, 11.5 percent.
In September alone, local enterprises earned 939 million USD from abroad shipment, an increase of 0.4 percent. Of the figure, FDI firms contributed 453 million USD, or 48.2 percent, said the department.
Meanwhile, localities across the city enjoyed an 8.8 percent growth year on year in nine-month exports, with September's results rising 0.5 percent month on month, it added.
The capital has set to earn nearly 15 billion USD from exports this year.