Businesses from new markets like Africa, South Asia, and South and North America will take part in an annual consumer trade fair in Hanoi next month.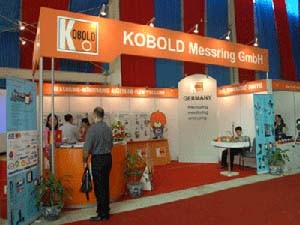 A stall at last year's Vietnam Expo. (Photo: Ha Noi Moi newspaper)
The 19th Vietnam International Trade Fair - Vietnam Expo 2009 will feature 600 foreign and domestic participants, including 350 well-known Vietnamese companies like Petrolvietnam, Viglacera, Hoa Phat, Lioa, Xuan Hoa, and Vinaconex.
The Vietnamese firms will showcase potential export items like handicrafts, interior decoration items, food, garments, leather footwear, household appliances, and building materials.
It will be held at the Vietnam Exhibition and Trade Center from April 8 to 14 but will be a slightly low-key affair this year because of the global recession, the organizer Vietnam National Trade Fair & Advertising Company said.