Hanoi's consumer price index (CPI) in January rose 0.96 percent from December 2011 and surged 16.24 percent from the same period last year, reported the Hanoi Department of Statistics.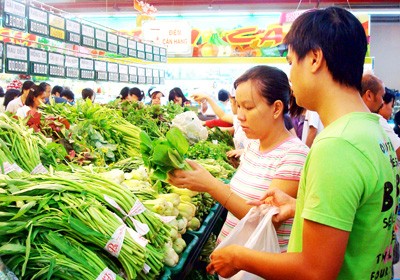 Hanoi's comsumer price index (CPI) in January rose 0.96 percent (File photo)
This is the lowest rise of CPI in months adjacent to Tet Lunar New Year in recent years.
Accordingly, price of food and restaurant services increased 1.17 percent, prices of garment and textiles, footwear, entertainment and tourism services went up by 1.15 percent, group housing and building materials increased 1.53 percent and home equipment and appliances rose 0.86 percent.
In comparison with December 2011, as many as nine out of 11 item groups posted a rise in CPI, two other commodity groups remained unchanged namely post and telecommunication and education.
Hanoi's CPI this month was much affected by prices of food commodities, apparel products, hats and footwear. However, so far the supply of food and foodstuffs for Tet are abundant and prices of many other products remained stable or increased negligibly in comparison with months prior to Tet in previous years.
Last few months, partly owing to the prolonged cold weather in Hanoi and the increasing demand for apparel products, the price of some garment and textile products increased significantly.