Deputy Prime Minister Vu Van Ninh said at a conference on Dec 26, that the national new rural construction program aimed to boost agriculture, reduce the country's trade deficit, contribute to macro-economic stability and improve the living standards of the rural people.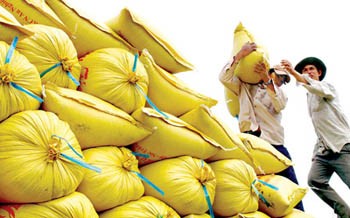 Stockpiling rice for export (photo SGGP)
Deputy PM Ninh was speaking yesterday at a conference to review works of the agricultural sector. He said that the national new rural construction program was firmly rooted and aimed towards sustainable rural development and improving the living conditions of the rural people.
According to Nguyen Dang Khoa, Vice Minister of Agriculture and Rural Development, after one year of implementation, at least 11 communes on the pilot phase of the program were already showing positive results.
The numbers of villages meeting 13-14 targets from a total 19 targets of the program are increasing, namely Tan Thinh village ( Bac Giang Province), Tan Hoi village ( Lam Dong Province),  Tam Phuoc village ( Quang Nam Province), TanThong Hoi village ( HCMC).
However, this number is too modest as villages in 63 provinces and cities meeting 13-14 targets are about 1.2 percent of the total number. 82.5percent of the villages meet only 7 targets of the program.
He also asked local authorities to complete the 2012 plan suitable for each region and create conditions for sustainable development and training of more human resources.
The numbers of co-operatives soared over 50 per cent from 2001-08 and increased 13.2 percent during the period 2009-2010.
Nearly half of the country's cities and provinces have approved of co-operative farm development.
However, agricultural officials said they had experienced difficulties in trying to implement the model. Access to investment capital remained limited and poor co-operation between farm co-operatives and manufacturing and processing units was proving to be a stumbling block.
Cao Duc Phat, Minister of Agriculture and Rural Development said the ministry needed to adjust the policy of investing funds from state budget and to pay more attention to the application of science and technology in the agricultural sector.
To achieve targets, Agriculture Minister Phat noted that the ministry should improve operations of the Steering Committee at all levels, enhance the dissemination of the program and implement regular inspections of the programs.
Agreeing with Minister Phat, Deputy PM Ninh added that localities should target at least 90 per cent of communes to finish outlining plans to build new rural areas by 2012 and achieve the standard criteria of new rural construction by 2015.
He said that getting individual farming households to join farm co-operatives was the key to restructuring the nation's farming sector. Farm co-operatives will be better positioned to help peasants control epidemics and increase profits.
However, he said some difficulties, including slow implementation, inappropriate policies and unstable production, halted the improvement of living standards of rural people.
He noted that the ministry should identify the products and review production planning for efficient investment and building of infra-structure, adding that farmers were suffering from a lack of support policies.
For instance, villages need to focus in areas like vocational training with orientation towards exports of agriculture, forestry and fishery products.
As for rural workers, Deputy Prime Minister Vu Van Ninh said the ministry should co-ordinate with the Ministry of Labour, Invalids and Social Affairs to guide them on specific jobs.
Concerning food hygiene and safety, the Deputy PM stressed that the ministry needed to erase thatched houses and construct modern slaughter houses to ensure better sanitary conditions.
"This task will be carried out without having a negative impact on the environment", he stressed.
In response to this, Deputy PM Ninh said the ministry would ask localities to draw up specific plans to develop farm co-operatives to encourage farmers to invest in the model.
In terms of key tasks next year, Minister Cao Duc Phat stressed on industry restructuring, development of selected plants and animals, with focus on developing fisheries, livestock, industrial storage and processing.
The sector would also focus on development of irrigation and agricultural infrastructure to prevent natural disasters and prepare for climate change.