The shift from cultivating rice to higher-value crops and livestock has significantly increased HCM City's agriculture value in recent years.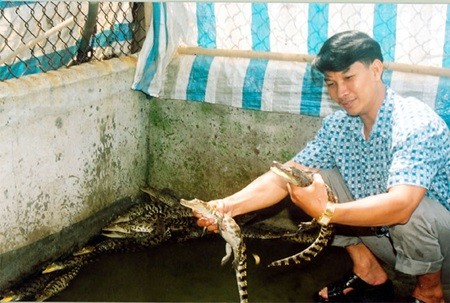 Bui Van Da raises crocodiles in HCM City's Binh Chanh District. The export of crocodiles and crocodile skins has contributed to a significant improvement in the city's agricultural value last year. — VNA/VNS Photo Pham Do
The GDP of agriculture, forestry and fisheries increased an average of 5.8 per cent a year between 2011 and 2014, compared to the national rate of about 3 per cent, said Le Thanh Liem, deputy chairman of the municipal People's Committee.
The increase was due to the restructuring of the city's agricultural sector, which began in the 2000s, he said.
In the 1990s, due to rapid urbanisation, GDP of agriculture increased by about 1 per cent a year.
In 2004, the municipal People's Committee approved a programme of developing flowers, ornamental trees and livestock to increase agricultural value.
Under the programme, farmers whose rice fields had a yield of less than two tonnes per ha a rice crop were encouraged to switch to other higher-value crops like safe vegetables, orchids, milk cows and ornamental fish.
The city farmers had an average annual profit of VND325 million (US$15,400) per ha last year, up 15.2 per cent against 2013, according to the municipal People's Committee.
Last year, farmers who grew safe vegetables had an annual profit of VND400 million ($19,000) per ha and those who bred milk cows had an annual profit of VND100 million ($4,700) for raising 20 milk cows.
The city has exported plant seeds for cultivating, vegetables, flowers, ornamental fish and crocodiles to many countries and territories, including the Netherlands, Italy, Dubai, Japan, mainland China, South Korea and Taiwan.
It exported 415 tonnes of plant seeds for cultivating, 1,000 tonnes of vegetables, 11 million ornamental fish, nearly 16,000 crocodiles and 1,500 crocodile skins last year. The seed exports include corn, vegetables, flowers and fruit.
To encourage farmers switching to urban agriculture, the city has decided to provide soft loans for farmers.
Nguyen Thi Tien, 45, who lives in Cu Chi District's An Phu Commune, said in 2008 she received a soft bank loan worth VND90 million ($4,200) to buy four milk cows for breeding.
In 2013, she was provided another soft bank loan worth VND300 million ($14,280) under a city Decision 13 to buy more cows. She now has 30 cows, including 15 milk cows which are producing about 200 litres of milk a day.
"My family earns a profit of about VND48 million ($2,280) a month," she said.
Before 2005, Tien's family made a living by breeding ducks but she had to destroy more than 1,000 ducks of bird flu in 2005.
She began working in a garment company but her income as a sewer was too low to support her family.
The city's Decision 13 issued in 2013 to encourage urban agriculture in 2013-15 helped provided soft loans to more than 6,500 farmers.
Because of Decision 13, many farmers in Can Gio District, one of the city's key districts in developing safe vegetables, flowers and ornamental fish, received loans to shift from planting rice to cultivating shrimp, fish and other crops.
Besides being a large consumer of flowers, HCM City also receives a large quantities of flowers and ornamental fish from other provinces and cities nationwide, and exports flowers and ornamental fish as well.
While the city's safe vegetables, fresh milk and black tiger shrimp have had stable domestic outlets, local outlets for the city's orchids have not been stable because many ornamental creature shops are small and owned by individuals.
In 2010, the HCM City Ornamental Creature Association asked the municipal People's Committee to develop a trade and services network for ornamental plants and fish.
In the initial phase, the city would set up three ornamental creature centres in suitable areas and an ornamental creature retail system in districts where there is a large population, according to the association.
The municipal People's Committee has recently assigned Saigon Trading Group (SATRA) to work with the Centre for the Promotion of Imports from developing countries (an agency of the Netherlands Ministry of Foreign Affairs), and FloraHolland, which specialises in organising flower exchange floors in the Netherlands, to set up a transaction floor for flowers and ornamental fish at the Binh Dien wholesale agriculture market in District 8.
The city has had about 2,130ha of flowers and ornamental trees last year, up 4.9 per cent against 2013.