The Ho Chi Minh City Business Association said Tuesday it plans to organize its general conference on June 4-5 to review performance in the fourth term 2004-2009 and pass the missions of the fifth term 2009-2014.
Speaking at a press briefing in the city Tuesday, association chairman Huynh Van Minh highlighted his organization's five main missions for the next term.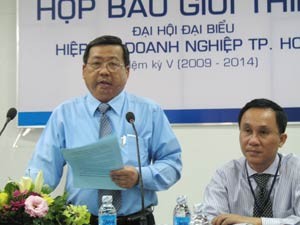 Ho Chi Minh City Business Association chairman Huynh Van Minh (L) speaks at Tuesday's press briefing while association vice chairman Le Nhu Ai looks on (Photo: Tuong Thuy)
"Above all, we're committed to serving as a bridge between our members and policy makers and the government."
"This means we have to make our members aware of business policies, regulations and rules, as well as promptly send their feedback to policy makers and the government so that the policies and rules can go better with the business environment."
He said the association would continue its structure shake-up. A target in this duty is to increase the number of business members by 2,000 between this year and 2014, from 5,000 enterprises to 7,000.
The chairman said his organization considers this target feasible, based on the fact that the number of business members rose from 2,000 to 5,000 during the fourth term (2004-2009).
According to him, the upcoming general conference will vote 55 executive members for the association, 10 less than in the fourth term.
The third main duty is to seek to become financially independent, which means the association will seek to create enough budget, said Mr. Minh, who is also CEO of the Saigon Trading Group (Satra), a major trading corporation in HCM City with many subsidiaries.
The two other duties are "enterprises with the community and the association with its units," said Mr. Minh. These tasks focus on activities that bolster the relationship between the association's members and the community, and between the organization and its units.
The conference is to be staged at the Re-unification Palace with the participation of 250 delegates who are entrepreneurs, and VIP guests, Mr. Minh said.