Tourism officials from Ho Chi Minh City, Central Highlands Lam Dong province and central Binh Thuan province have reviewed their cooperation in tapping local tourism strengths for joint development over the past two years.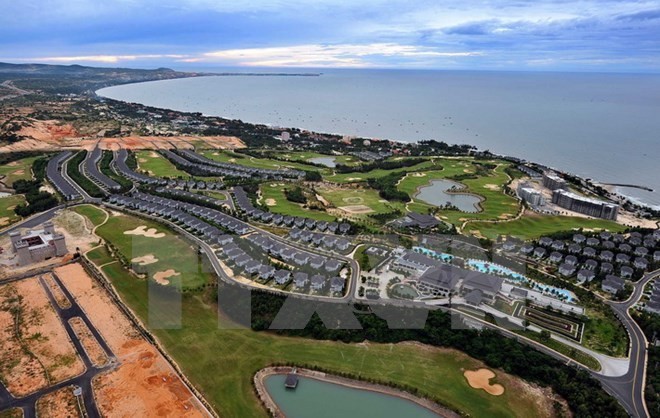 A view of Mui Ne beach in Binh Thuan (Photo: VNA)
The workshop on October 26 in Phan Thiet City, Binh Thuan also saw the attendance of representatives from the Ministry of Culture, Sports and Tourism, its local chapters, the Vietnam National Administrative of Tourism (VNAT) and travel agencies.
Under the programme "Tourism development triangle between Ho Chi Minh City, Lam Dong and Binh Thuan from 2013-2018", travel agencies have created various inter-tours that offer visitors mixed experiences with beaches and mountains, as well as a signature taste of cultural events in each locality.
Chief among these are the tour namely "Sai Gon markets – Da Lat flowers – Mui Ne beaches".
Speaking at the workshop, Vo Hoang Tuyet Linh, Deputy Director of the Binh Thuan Department of Culture, Sports and Tourism, said that tours linking the three localities are among the most successful in which Ho Chi Minh City serves as a transport interchange for travellers to Binh Thuan and Lam Dong.
It is estimated that about 60 percent of travel firms in Ho Chi Minh City regularly operate tours from the City to its partner localities.
Saigontourist and Benthanhtourist, two major tour operators in the City, have provided holiday packages to Binh Thuan and Lam Dong for 48,000 and 45,000 visitors, respectively, since the beginning of 2015.
Investments in the sector have also been fueled. Investors from HCM City are now funding approximately 240 tourism projects, worth over 30 trillion VND, in Binh Thuan and have added 600 billion VND in three extra projects in Lam Dong since June 2013.
However, the workshop attendees have spotted some challenges, including the lack of close cooperation between local travel agencies, insufficient infrastructure for tourism and environmental issues.
They urged for more support from the municipal and provincial authorities to call for investment, develop new tourism products and boost cooperation between the travel firms.-VNA