Ho Chi Minh City has seen a shortage of SJC gold bars of one-tenth to five-tenths of a tael (equivalent to one and 1/3 ounces) for the past seven days or so.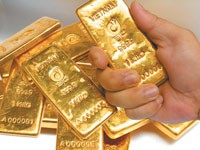 SJC gold bars
Very few shops in the city have these gold bars to sell, except for large retailers of the Saigon Jewelry Company (SJC).
The reason for the shortage is that gold price here has fluctuated wildly for the past two weeks, and it is costlier to make these gold bars. Therefore, private shops prefer trading gold rings to avoid price fluctuation.
SJC says it is now producing these bars ordered by enterprises that are running sales promotion programs. As for the one-tael bars, the company supplies 1,000-2,000 bars a day.
On March 13, 2006, the world's gold price at 4:30 pm (Viet Nam time) was equal to VND10.7 million per tael, and VND10.6 million at midday.