Following the fifth reduction in a month in retail gasoline prices last Saturday, Ho Chi Minh city-based taxi and bus companies yesterday announced fare cuts.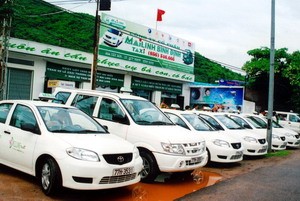 Cabs of Mai Linh Taxi Company 
Future Taxi Company director Vo Ba said his company has registered with the official agency to cut the fare by VND1,000 per kilometer.
Mai Linh Taxi Company's deputy director Truong Quang Man said his company has decided to cut the fare from VND11,000 per kilometer to VND10,500 this week. From the 26th kilometer onward, it would cost just VND7,000, he added.
Vinasun deputy general director Ta Long Hy said his company has cut fares to the same levels as Mai Linh. Only, it would come down to VND7,000 from the 31st kilometer.
Buses operating at the Eastern Bus Station have also slashed fares.
Phi Hiep Company has reduced the HCM City – Da Nang fare by VND20,000 to VND280,000. 
Viet Tan Phat Company has made a similar reduction to the HCM City-Gia Lai fare, which will now cost VND130,000.
Phuong Trang now charges VND10,000 less for the trip from HCM City to Da Nang and VND20,000 less for HCM City – Qui Nhon. They cost VND270,000 and VND190,000.      
Other companies too have lowered fares, with the highest cut of VND50,000 being made for the HCM City – Hanoi trip by Tam Tan Dat.
At An Suong Bus Station, where most buses operate on short routes and hence fares are low -- below VND50,000 -- most operators have left their fares unchanged. 
The Vietnam Railway Corporation has also decided to cut freight charges by 3 percent starting November 15, an official said yesterday.
This is the second cut made within a month. As for passenger fares, since the company has been offering a 50 percent discount, a fare cut would be considered when the program ends, he added.
Unlike passenger fares, freight rates are negotiated between transport companies and goods owners, Nguyen Ngoc Lu, deputy chairman of the HCM City Goods Transportation Association, explained.
So, freight rates changed rapidly, even from morning to evening. In case supply does not meet demand, there can be a sudden in rate, he said.
Gasoline prices have been cut five times since the beginning of October and the price of A92 gasoline is now VND14,000 compared with its peak of VND19,000 in July.