According to experts, several countries have yearly earned tens of millions of dollars by developing agricultural tourism. And yet, Vietnam, especially Ho Chi Minh City have not found effective ways to exploit hi-tech agricultural tourism products.

In fact, Ho Chi Minh City's suburban districts have great potential to develop hi-tech agricultural tourism products in order to attract visitors, such as Can Gio, Hoc Mon, Cu Chi, Nha Be, Thu Duc, Binh Chanh and district 9.

Can Gio District is recognized as a potential ecotourism destination. Its attractions, such as waterway system , fruit gardens and traditional craft villages in surrounding areas could attract a large number of tourists every year.
Already famous for its legendary network of tunnels, Cu Chi District nowadays has turned into a popular tourist destination with several ecotourism sites covering on an area of more than 24,000 hectares. The district is home to many organic farms combined with tourism, drawing a lot of tourists to experience agriculture and rural life.
Tran Kim Hang, Vice Director of the Infrastructure Exploitation under the Ho Chi Minh City Hi-Tech Agriculture Park, said that the park received around 12,000 visitors in 2016 from only 7,000 in 2014. The park's main function is to apply new technology, develop high quality products, introduce new plant species and transfer the latest technology to farmers and agriculture enterprises. It is also a venue for workers and students to come and learn about agricultural technology.
From that, the HCM City department of Tourism is implementing a survey on ecotourism sites in Cu Chi, Can Gio, Hoc Mon districts, such as the AHTP , Minh Tan ornamental garden, Huyen Thoai orchid garden, organic vegetable gardens in Cu Chi, Thai My craft village, Phu Hoa Dong paper cake craft village, Hai Thanh Koi Fish farm, Can Gio one-day trip...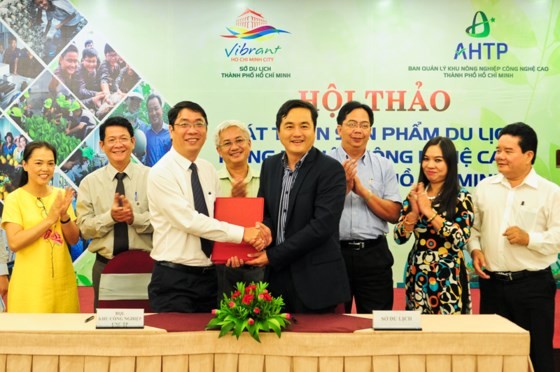 Delegates participate in the conference.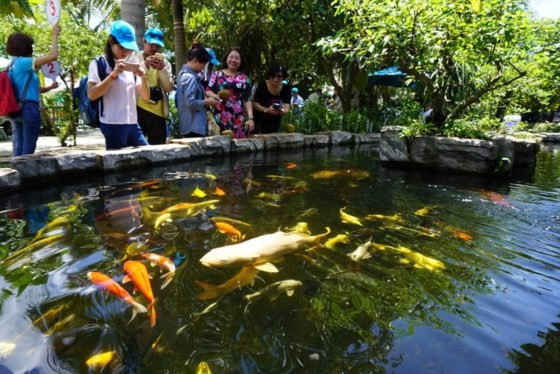 A Koi fish farm