The Central Highlands province of Giai Lai has rolled out the red carpet for them, investors from Ho Chi Minh City said.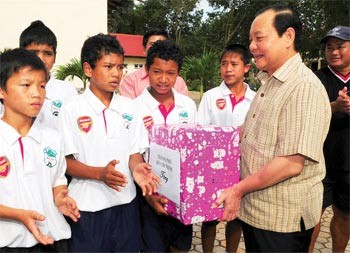 HCMC Party Committee Secretary Le Thanh Hai gives gifts to young players at the Hoang Anh-Arsenal Football Institute in Gia Lai Province. The city and province have been reviewing their burgeoning economic ties. (Photo: SGGP)
Speaking at a conference held on August 12 to review economic cooperation between HCMC and Gia Lai in 2006-09, Vu Si Nam, chairman of the Nha Be Garment Company, said: "We have invested in 10 provinces and cities nationwide, but no other place processes investment applications so quickly or assists investors so effectively like Gia Lai."
 
When his company wanted to build a factory there, the province allotted land in a central part, he said. Approval took only one month against a year or more elsewhere, he said, while a transformer station and dormitory for workers were built.
 
Luu Thi Nga, director of Vinh Quang 1 Company, said Gia Lai authorities are helpful, adding thanks to the favorable investment environment, her company has shifted its investments to the province.
 
Nguyen Ngoc Hoa, chairman of the HCMC Trade Cooperative Union, said: "HCMC and Gia Lai only signed an agreement to cooperate in mid-2006 but Co.opMart Pleiku opened in early 2007."
 
"Besides rapidly completing procedures, local authorities also introduced to us reliable partners."
 
By July 2009, 17 firms from the city have invested VND2.2 trillion in the province.
 
Gia Lai-based businesses have invested VND16 trillion in 18 real estate projects in the city.
 
Speaking at the meeting, HCMC Party Committee Secretary Le Thanh Hai hailed the cooperation between authorities, relevant agencies, and enterprises from the two sides.
 
But the achievements do not measure up to their potential and strength, he said.
 
In future, the two sides should expand cooperation in developing overland and air transport systems, culture, education, tourism, and telecommunications, he said.
 
He praised the province-based Hoang Anh Gia Lai Company for expanding into Laos and Cambodia.
"Hoang Anh Gia Lai has shown the way for other enterprises. I hope HCMC and Gia Lai will have more successful investors in neighboring countries in future. This will not only be significant in economic terms but, more importantly, also in political terms," Mr. Hai said.