With many enterprises in Ho Chi Minh City not issuing value-added tax invoices when selling goods or services worth over VND100,000 as required by law, not only is the Government losing revenue, but it is also unable to check smuggling.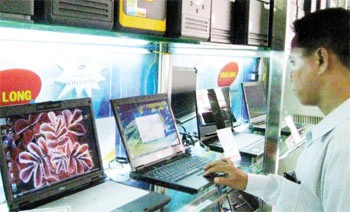 Hoan Long Computer shop in District 1, HCMC. Many shops in the city sell laptops and other products without adding value-added tax or issuing VAT invoices (Photo: SGGP)
Most electronics shops, for instance, even large and popular ones, do not issue VAT invoices though they add the tax to their price. They only issue receipts.

A salesgirl at one such shop explained: "We are afraid that buyers might come back to exchange their goods and then we will have to issue another invoice."

Tran Thi Le Nga, the head of a division set up under the tax department to assist tax payers, said: "Not issuing VAT invoice is a tax dodge."

Many companies and shops, especially restaurants, do not include VAT in their prices unless customers ask for VAT invoices.

Cooking the books

Many companies report losses to avoid paying tax, helped by the fact that they often do not issue VAT invoices that record their sales.

They also buy their stocks or raw materials in similar fashion -- without the invoices – and store them secretly making it even harder for tax authorities to find out their actual sales.

In this manner, many large, profitable companies pay even less tax than pho restaurants and small fashion shop.

Some continued to report losses while actually expanding their business.

Setting up firms to evade tax

Restaurants and shops have to pay a flat tax, fixed arbitrarily by tax officials, even if they actually incurred losses.

To avoid this, many have begun to "set up" companies since they are allowed to report their earnings and pay tax.

To throw dust in officials' eyes, they set up a company in one district and run their restaurants or shops in another since tax authorities are restricted to their own jurisdiction.

Selling goods without a VAT invoice also enables fake goods to inundate the market and creates unhealthy pricing competition.

According to the Law on Taxation Management and Criminal Law, if a company evades over VND50 million in tax, the case will be transferred to the police for investigation.

But in practice, many businesses evade billions of dong in tax but get away scot-free because the tax office does not have enough personnel.

The tax department was able to check only 2,500 out of the city's 80,000 businesses in the first six months, collecting VND850 billion from violators and transferring two cases to the police for criminal action.