Many businesses have asked the Ho Chi Minh City Customs Department to continue with e-clearance after it said it would revert to clearing goods manually from the third quarter because of constant glitches in the system.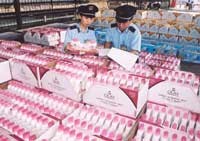 Customs officials check cosmetics at Saigon Port in HCMC. (Photo: VNA)
At a meeting on July 29 with department officials, they said customs e-clearance should be abolished only after the e-declaration system begins to work well.
Electronic clearance was introduced in 2005 in HCM City and Hai Phong in an effort to eliminate corruption and reduce the time taken for import – export procedures.
But many businesses are frustrated with the tardiness in processing their transactions and blame this on the old computers and unreliable Internet service in the city.
Nguyen Trong Hung, the department deputy director, said earlier that the clearance system has not been synchronized with other processes and the software to run it is not sophisticated to ensure smooth clearance.
Application forms have not been standardized, making processing a difficult task, he said.
The online customs declaration process, under which users can send all the information relating to their cargo to customs offices, should first be introduced nationwide before e-clearance is revived, he said.
It is only in use in a few major cities now.
In HCMC, 90 per cent of all firms requiring customs clearance make their declaration online. Around 350 companies regularly use the service. The office has handled 20,000 cases this year.
Also at the meeting, many enterprises complained that customs offices are not uniform in fixing the HS code, delaying clearance.
 
For the same goods every customs office gives different HS codes, while for the same codes some offices levy 3 percent VAT and others demand 5 percent.
 
Mr. Hung said a comprehensive HS code schedule is not available yet. Therefore, when clearing goods, customs officers have to assess those that do not have the HS code, he explained.