Consumer prices have edged down in HCM City following discount programs by retailers like CO.OpMart, Maximark, and Big C and the dong's falling value.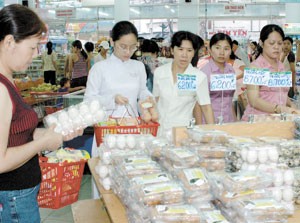 Consumers choose eggs in a supermarket of Co.opMart in Ho Chi Minh City.
Carried out in cooperation with producers, most of the promotions involve pork and rice. Vissan, the country's top pork producer, is selling the meat at VND4,200 to 6,200 lower than others.

Co.OpMart in Dinh Tien Hoang, Nguyen Dinh Chieu and Ly Thuong Kiet streets are selling packaged frozen pork made by Dong Nai Food Processing Factory at VND 5,000 to VND6,700 less than market prices.
French supermarket Big C is offering discounts on 10 essential products such as rice, chicken, dairy products, instant noodles, and eggs.
Forced to respond to these promotions and because of the decreasing purchasing power of consumers, shopkeepers too have had cut prices.
At the Tran Chanh Chieu wholesale rice market, prices have begun to fall. They are now 3 to 5% lower than at the end of May.