Despite the difficult situation, Ho Chi Minh City's economic recovery has gathered pace this year, Deputy Prime Minister Vu Van Ninh said May 27.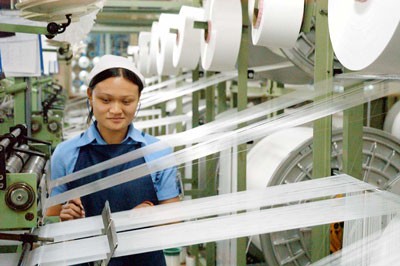 Weaving at Paiho Vietnam Company in Tan Tao Industrial Zone (Photo: SGGP)
Ninh, who is leading a Government mission to the city to discuss socioeconomic performance in the first five months, said prices are under control, inventories are lower, and industrial and agricultural production are up.
The city acted quickly and effectively to make foreign companies that were damaged in the anti-China protests feel secure and resume production, he said.
He called for restructuring agriculture this year to improve farmers' incomes and tackle bad debts and restructure credit institutions to improve liquidity in the economy.
The chairman of the city People's Committee, Le Hoang Quan, said foreign direct investment this year has been worth US$793 million, a 119 percent rise over the same period last year.
Retail sales have topped VND2,570 trillion ($122 billion), up 12 percent, and exports have been worth $11.7 billion, 5.4 percent up and accounting for 20 percent of the country's exports, he said.
 
All 32 foreign companies that were damaged in the anti-China riots have resumed production, he said.
Deputy Chairman Le Manh Ha said 79 state-owned companies would be equitized, 30 of them in 2014-15.