The economic growth rate of Ho Chi Minh City is gradually showing signs of recovering after a long spell of dormancy, with the GDP rate touching VND404.72 billion in the first nine months, up by 8.7 percent.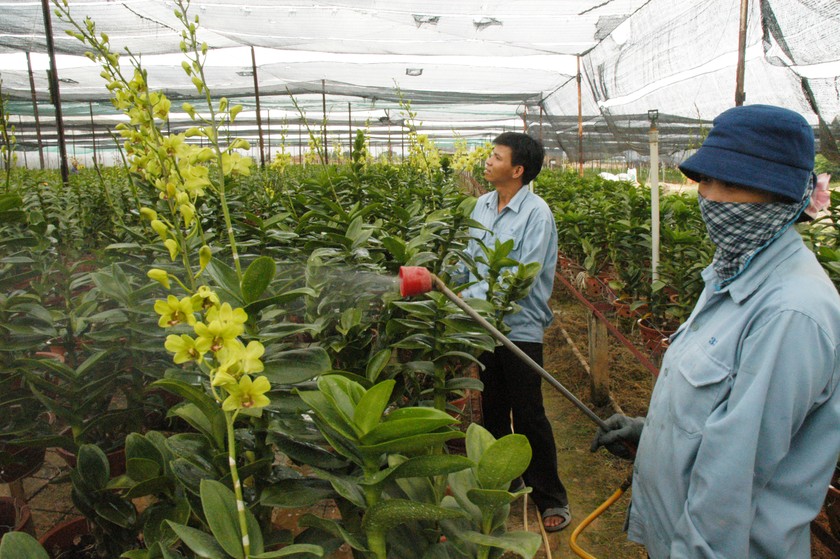 Farmers water orchid flowers in an orchid farm in District 12, HCM City. Orchid flowers export also earn much in the city.
The City also solved its unemployment rate and created jobs for more than 200,000 people, sending 2,400 laborers abroad and approved 313 projects valued at VND28.3 billion.
Local authorities have spent VND56.932 billion to grant health insurance cards, free bus tickets, tuition fee exemption to the poor, disabled and disadvantaged students, as well as offered preferential treatment for people credited as war revolutionaries.
However, a report said that Vietnamese enterprises still face a lot of difficulties. Many businesses have halted production or dissolved due to lower purchasing power, surplus inventory and high production costs. In addition, it's hard to borrow capital from banks suffering from bad debts and economic downturn.
In the last three months of this year, the City government will focus on containing inflation, stabilizing macro-economy, enhancing competitiveness, supporting enterprises through loans at lower interest rates, limiting bad debts, and suspending ineffective projects.
According to the HCMC Center for Human Resources Forecast and Labor Market Information, workers who graduated from vocational training schools and colleges have not yet met the requirements of recruiters. In the fourth quarter, HCMC is said to require 65,000 additional workers.