Ho Chi Minh City's Consumer Price Index (CPI) rose slightly by 0.15 percent in October over the previous month, an increase of 7.88 percent since the beginning of the year, the city's Statistics Office reported.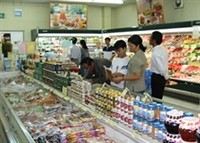 Ho Chi Minh City's CPI in October is 5.87%, increases by 0.15% over the previous month.
In October alone, transport-post-telecommunications services rose by 0.67 percent, and house, electric, and building materials up by 0.52 percent.
Other commodities were kept stable including most food. Some food prices changed, however, including fresh cattle meat which decreased 0.54 percent, fresh poultry which increased by 0.34 percent, and seafood which decreased by 0.41 percent.
According to economists, decreasing gasoline prices helped stabilize domestic prices.
The price of gold increased by 5.03 percent in October while the USD exchange rate saw a decrease of 0.33 percent.