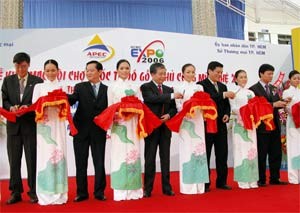 Ribbon cutting ceremony to open the HCMC Expo 2006 on October 4 (Photo:TK).
Ho Chi Minh City's largest industry display, the International Furniture and Handicraft Fair and Exhibition 2006 (HCMC Expo 2006), opened yesterday and shows until October 8 at the HCMC International Exhibition and Convention Center (HIECC).
Following the theme, "Cooperation and Development within the APEC business community," the event featured around 650 booths displaying a variety of goods including interior decorations and furniture; fine arts and handicrafts; bamboo and rattan; porcelain and machinery products, all from 267 companies based in Viet Nam or the ten other participating countries and territories.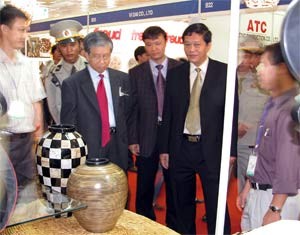 Deputy Minister of Trade Mr. Phan The Rue tours the expo (Photo:TK).
As well, there is an APEC House in which the trade and economic potentials (i.e. lumber processing and supply capacities) of the 21 APEC member economies are being showcased.
A seminar entitled "A National Brand Name – the opportunities and experiences of APEC economic members" will also be held to provide participants with an overview of the domestic wood processing industry and its place in the world market. A crucial insight will be given into the opportunities and challenges to be faced upon Viet Nam's entry into the World Trade Organization.
According to Deputy Minister of Trade Mr. Phan The Rue, "The HCMC Expo 2006 holds great significance since it has been chosen as an official trade event for the APEC year."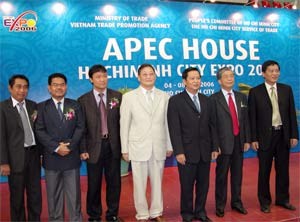 Representatives of APEC Members' Economies in the APEC House (Photo:TK)
"The expo will provide a golden opportunity for participating companies to develop relationships with new foreign business partners and will bolster already existing relations with their international customers," he added.
Shortly after the opening ceremony, local exporter Nhat Minh Co. Ltd successfully signed a US$3-million contract to export its interior design products to the US.
In 2006, Viet Nam's wood processing and handicraft sectors have already registered strong growth with a combined export sales of US$2 billion, accounting for nearly 1% of the world's wood products market.
Related link: