Tuan Tai gold shop in District 5, one of Ho Chi Minh City's most well-established and biggest private gold traders, closed down on November 16 and its owner has allegedly skipped after shorting the precious metal on November 11.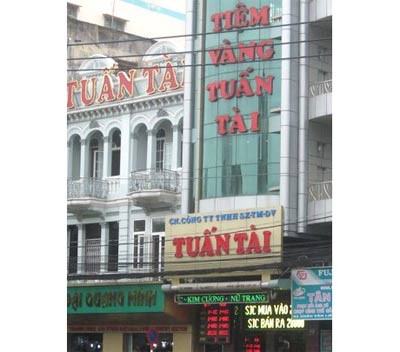 Tuan Tai gold shop, a long established private trader who closed suddenly after allegedly making a big loss on trading when gold prices spurted November 11
An unnamed official from a commercial bank said that when gold rose to around VND27 million a tael on November 11, Tuan Tai borrowed tens of thousands of taels from many banks to sell in the hope the price would drop later and it could buy the gold back at a profit. A tael equals 37.5 grams.
 
But the price, instead of falling, soared to VND29 million by 11:30 am on that day, and Tuan Tai made a massive loss.
 
However, it is not clear yet why an established company was unable to bear a 7 percent loss.
 
Nguyen Thanh Toai, deputy general director of Asia Commercial Bank, said Tuan Tai is only one of many gold investors trapped by the recent gold price volatility.
 
Tuan Tai, situated at 37-39 Chau Van Liem Street, has been renowned for decades for being able to provide large volumes of SJC gold to customers including commercial banks and gold trading companies.
 
Tuan Tai Service Trading Production Limited Company is one of the few gold trading enterprises licensed to trade the metal abroad. It has also invested in some domestic gold trading floors.
 
But all its trading accounts are all blocked now.