Agricultural enterprises have felt more encouraged after Ho Chi Minh City leaders have met with them to discuss and understand the many difficulties faced by them such as access of capital, project approval delays and high land rents.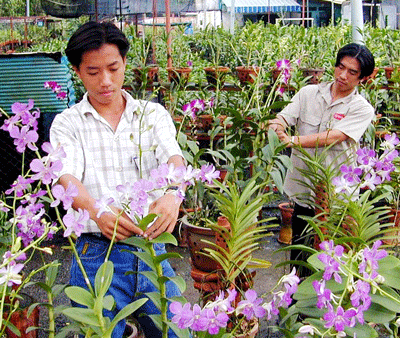 Employees of a company taking care of orchids in Go Vap District (Photo: SGGP)
Le Anh Dung, director of Hai Thanh Company that specializes in exotic fish exports, said his partners want to observe his company's functioning methods before they sign any new contract.
Earlier, his company merely delivered the product as per customer requirement but now the contract can be cancelled if it does not meet with their specifications.
Hence, to expand production, Dung spent time in a farm in Trung An Commune in Cu Chi District and spent tens of billions of dong to train local residents and another tens of billions on improving infrastructure. However, his upgraded project has still not been approved. 
Besides this delay, he has to pay a 20 percent tax for breeding fish, which is very high for any enterprise. Therefore, Dung has proposed to the government to exempt fish breeding from tax.
At the meeting with HCMC leaders, other enterprises expressed their concerns over the high lease payment for land.
Participants at the meeting said they have not received any preferential treatment from the government such as tax exemption for the first two years of operation, or any capital support either.
Addressing the meeting, Le Minh Tri, deputy chairman of the People's Committee of Ho Chi Minh City, promised to look into all the issues raised and help remove snags and resolve difficulties wherever possible.