Ho Chi Minh City introduced many incentives for overseas Vietnamese and American businesses at a conference in San Francisco yesterday, expecting to receive an investment wave in the wake of the Trans-Pacific Partnership (TPP) and make the U.S. the top investor in the city.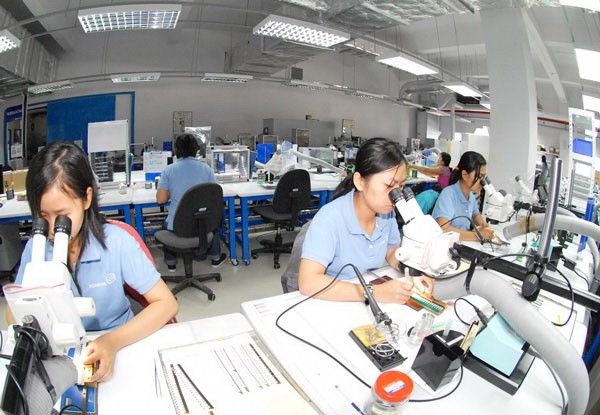 Cell phone component manufacturing at Saigon Hi-Tech Park (Illustrate Photo: SGGP)
The investment promotion conference was hosted by the HCMC People's Committee in San Francisco and attended by Vietnamese Consul General to San Francisco Ho Xuan Son, overseas Vietnamese and American companies.
U.S. enterprises have invested in over 300 projects worth US$600 million in the city, reported director of the HCMC Investment and Trade Promotion Center Pham Thiet Hoa.
Deputy chairman of the city People's Committee Tran Vinh Tuyen said that the  investment attracting result was inappropriate with the cooperation potential between the city and the U.S cities.
With the Trans-Pacific Partnership (PPP), HCMC expects to receive a wave of American firms making the U.S. the top investor in the city, he said. The city's authorities have focused on luring American investors to hi-tech field at Saigon Hi-Tech Park.
In order to become a reliable and attractive destination for investors, the city has drastically implemented three breakthroughs in the phase of 2010-2020 including institution betterment, infrastructure building and development and human resource improvement.
They are significant factors to develop the hi-tech industry so the city will provide investors with many incentives especially in tax and land, he added.
In addition, Mr. Tuyen affirmed that HCMC has paid attention to administrative reform to better serve investors and stabilize tax and land policies to keep their mind on production and trading.
"Is there difference in incentive policies between large and small investors and how has the city prepared human resource to meet investors' demand ?" entrepreneur Tom Nguyen asked.
In response, deputy head of the Saigon Hi-Tech Park Management Board Duong Minh Tam affirmed that startup is honorable and HCMC has focused on assisting startups to develop.
The Saigon Hi-Tech Park has not only attracted producers and manufacturers but also leading universities in the world to create high quality human resource to supply foreign investors. HCMC has an abundant and young labor force which will be sufficient for businesses.
Besides, the park has built an accommodation area for workers and currently a foreign firm is constructing an international housing site for experts from all investors, Mr. Tam said.


Incentives for investors in HCMC
° Exempt from paying investment registration, licensing and project assessment fees.
° Rent: US$0.8-1.2 per square meter a year for investors in hi-tech production, US$1.1-2.3 for those in hi-tech service. It is free for investors in research and development and training activities and technology incubation.
° Investors will be exempt from corporation income tax in the first four years, enjoy the preferential rate of 5-9 percent in nine following years, 10 percent in the next two years and pay 20 percent later on.
° Exempt from import tariff and value added tax on items imported for direct use for scientific research and technology development.
° Enjoy export duty and value added tax rate of 0 percent on hi-tech products.
° Import tariff free on items bought to make fixed properties of projects.