Within the framework of official visit and work in Laos People's Democratic Republic and Cambodia Kingdom on April 6 - 11, Secretary of HCMC Party Committee Le Thanh Hai yesterday led Ho Chi Minh City delegate to join in an exhibition and workshop "The Ho Chi Minh City Investment and Trade, Tourist Promotion into Cambodia Market."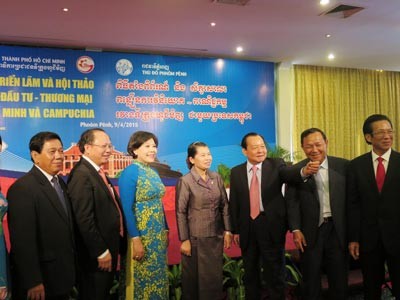 Secretary of HCMC Party Committee Le Thanh Hai, Cambodia's Deputy Prime Minister Men Sam An (C) and two contries' businessesmen at the workshop. (Photo:SGGP).
Attending at the workshop were Men Sam An, Cambodia's Deputy Prime Minister, Minister of the National Assembly-Senate Relations and Inspection and over 270 Cambodian and HCMC businesses.
Speaking at the opening ceremony, Chairman of Cambodian People's Party (CPP) Pa Socheatevong appreciated the guest delegate's visit, aiming to contribute to tighten friendship, solidarity and cooperation between Phnom Penh and HCMC authorities.
In early 2014, Phnom Penh collaborated with Ho Chi Minh City to build Cho Ray- Phnom Penh Hospital with total capital of US$ 40 million. In addition, two cities' authorities also strengthened investment cooperation in industries of telecommunications, aviation, agriculture, rubber plant and bank.

Two ways trade turnover between two cities reached at US$ 323 million in 2013 and US$ 253 million in 2014 in the sectors of petrol and gas, rubber, iron and steel , and household goods.

During the first three months of this year, Vietnamese government has licensed four projects of Cambodian enterprises. Besides, Royal Government of Cambodia has licensed 65 investment projects of Vietnamese businesses with total value of US$ 388 million.
With the stable politics, Cambodia's economic growth increased 10 percents per year in the period of 2003- 2008, and seven percents per year in the period of 2014- 2015. The economic growth is predicted to exceed seven percents a year in industry of agriculture, tourist, bank, service, clothing and building in next years.
With preferential bilateral cooperative policies, two countries' trade turnover has increased rapidly in recent years. On the occasion, Cambodian Deputy Prime Minister thanked Vietnamese investors' oustanding contributions for the country's development.

Through this event, Vietnam businesses will find new potential partners as well as investment opportunities in Cambodian market, said deputy prime minister Men Sam An.

Cambodian government in general and Phnom Penh authority in particular will continue to advertize deeper investment laws, rules and policies to Vietnamese businesses, added deputy Prime Minister.

Secretary of HCMC Party Committee Le Thanh Hai said that the workshop was held on the occasion of marking Cambodia's Chaul Chnam Thmey New Year. It creates favourable opportunity for HCMC enterprises to not only update relevant information about investment environment and oppoturnity in Cambodia but also exchanged experiences to partners.

More than 40 businesses, leading corporations in HCMC joined in this workshop.

Through the workshop, Secretary Le Thanh Hai hoped that Cambodian enterprises will find new investment and cooperation opportunities in Ho Chi Minh City.