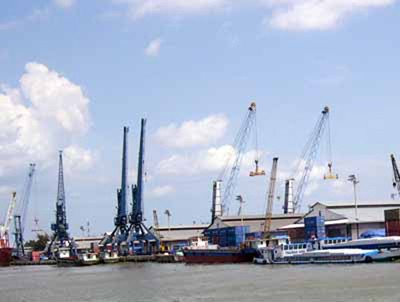 Saigon Port.
Mountains of non-contained cargo are stuck at Ho Chi Minh City-based Saigon Port due to a sudden surge in imported shipments and the port's hesitation in unloading, which earns much lower profits than unloading containers.
Le Cong Minh, general director of Saigon Port, said that the number of imported shipments in the first four months of this year has risen by 43 percent year-on-year, of which the amount of bulk cargo accounts to 80 percent.
In the middle of April, up to 50 ships wanted to unload at Saigon Port on the same day, while the port is only able to receive around 25 ships, he said.
Some ships are spending days lining up to wait to enter the port. According to the Saigon Port's docking schedule, there are nine ships waiting to enter the port by May 15.
The question is why goods keep arriving to Saigon Port while there are a lot of other ports in the area, such as Ben Nghe, Lotus, Tan Thuan Dong and Dong Nai.
Some shipping experts said that unloading bulk cargo takes a lot time and effort but makes only a small profit. According to the Vietnam Seaports Association, the cost for unloading and packing a ton of bulk cargo is from VND44,000 to VND48,000. The port's profits are around VND1,400 per ton. Meanwhile, it earns around VND7,500 for each ton from unloading a 20-foot-container weighing 20 tons.
The port would choose to unload highly profitable shipments instead of the lower ones. The state-owned port, however, can hardly refuse these kinds of goods, as it has unloaded bulk cargo for years.
Goods, such as cassava, fertilizers, cattle-feed and rice bran, are piling up and has caused huge losses to many businesses. The port's management said May 13 that it will exempt the firms from paying storehouse rent.
Questions have been raised as to whether this is the right solution.
Vietnam will concentrate on building deep-water ports for container ships in the coming decades, said Pham Anh Tuan, project manager of Portcoast Consultant Corp., which is developing Vietnam's ports by 2050, adding that the number of seaports receiving bulk cargos would be reduced.
Meanwhile, as an agricultural country, Vietnam always has a demand for imported fertilizers and pesticides and exports agricultural produce, so it also needs more seaports that accept bulk cargos.
Only the ministries of Transport and Planning and Investment, and other relevant ministries, can control the activities of the seaports to make them suitable for the country's economic situation, experts said.