Ho Chi Minh City will launch Green Consumption campaign next month with several activities including the sale of goods at discounted rates to low-income workers.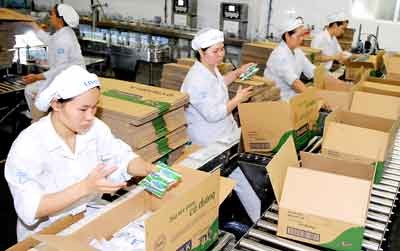 Workers of Thogn Nhat Milk Company are packaging dairy products. Thong Nhat Milk Company has won the Green Enterprise Award (Photo: SGGP)
The campaign will organize fairs and other promotional sales events at export processing and industrial zones and encourage residents in general use products of companies that have won the Green Enterprise Award from the city's People's Committee.
This year, campaign will be launched at the Youth Cultural House on September 11. Over 1,000 volunteer students have signed to propagate the campaign and assist people in finding out products of "green" enterprises.
The Co.op Mart supermarket chain last year had given out free environmentally-friendly bags to customers to encourage the disuse of plastic bags.
Saigon Co.op has said customers who purchase green products worth at least VND200,000 will receive a coupon of VND10,000 and an environmentally-friendly bag. Those who purchase green products will also receive more coupons in this year's campaign.
Last year's campaign had limited impact as it was not joined by all the supermarkets in the city; customers were not used to bringing shopping bags to supermarkets; and relevant agencies did not force people to use bags more beneficial to the environment.
Speaking at a recent meeting on environmental issues, Deputy Minister of Natural Resources and Environment Nguyen Van Duc urged residents not to buy products of firms violating the environment. He said such purchases would lend a helping hand to illegal companies that are destroying the living environment.
For this year's campaign, several companies including Vinamilk, Kido, Unilever Vietnam and Colgate Palmolive Vietnam have promised to offer their products at reduced prices.