Standing Vice-Chairman of Ho Chi Minh City People's Committee Nguyen Thien Nhan has worked with the leaders of the Ho Cchi Minh City (HCMC) Economic Institute and departments on an economic restructuring plan in HCMC for the 2006-2010 period.
The plan includes five groups of resolutions to speed up the process of economic restructuring effectively. In the plan, a ten-point priority list is to be sent to the central government to strengthen the city's autonomy.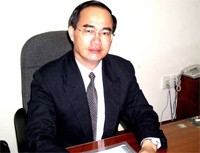 Mr. Nguyen Thien Nhan
Mr. Nguyen Thien Nhan asserted that organizations and departments must have specific directions for the related projects to carry out economic structuring; formulate policies of financial stimulus; put forward resolutions for e-commerce development and national-level information network to facilitate business activities; build the training information and scientific research system as well as distant education to satisfy human resources demands.
He added that it is necessary to modernize the statistics work to meet the demand of information for development, to separate construction from the industrial sector to establish a development strategy for the industry in the next few years.