Ironically, it was good news for the Vietnamese community in Russia after the government there decided to limit the number of shops that Vietnamese immigrants could operate in the markets of Moscow. The decision could have spelt the end of many Vietnamese businesses but news of the new labor laws had the unexpected effect of rallying Ho Chi Minh City officials into action.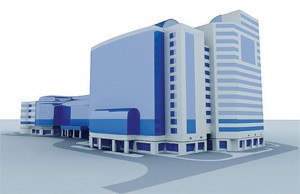 An artist's impression of Ho Chi Minh City Trade Center in Moscow
In response to the new regulations, Ho Chi Minh City will begin the construction of a Vietnamese trade center in Moscow later this year, to provide a platform from which Vietnamese citizens there can conduct lawful business activities while still taking into consideration the economic interests of both Vietnamese and Russian residents.
 
The US$100-million complex will include a restaurant, hotel, market, entertainment area and office building, however, prime floor space in the market area will be reserved for introducing Vietnamese goods to the local market.
 
With a cost of US$35 million, the first phase of construction will cover 30,000 square meters and will accommodate at least 2,000 shops, said Pham Hong Minh, General Director of the Vietnam-Russia Investment Stock Company in HCMC, adding that it would be open for business by the end of next year.
 
He said Ha Noi is also setting up a trade center in northern Moscow.
 
Facilitation of the business activities of Vietnamese people living in Russia is welcomed by both the Vietnamese themselves and local Russian citizens alike.
 
There are currently around 30,000 Vietnamese selling goods in Moscow-based markets.
 
Like immigrants in any country, Vietnamese people have a tendency to confine themselves to their own cultural community. They live near each other, operate market stands near each other and do business mostly among themselves. They also pay fees and taxes through a Vietnamese management board.
 
The local Vietnamese community there is so tight in fact that many of them have not even bothered to learn how to speak Russian. Despite this closed cultural behavior though, almost all Vietnamese people in Russia choose to go into business as a means of making a living.
Along with the new market control regulations, the Russian Ministry of Economic and Trade Development also announced plans to develop a new system to screen foreign labor.
 
After 2007, foreigners wanting to work in Russia will be obliged to go through an examination procedure to evaluate their professional credentials and language abilities.
 
Nguyen Phu Binh, Deputy Foreign Minister and Chairman of the Committee for Overseas Vietnamese, told the Viet Nam News Agency last week that he had held talks with relevant agencies in Moscow about the possible repercussions of the new law on Vietnamese workers. He was assured however, that they would not be discriminated against.
 
Mr. Binh said the new regulations were designed to achieve socio-economic goals and streamline administrative procedures. They were not intended to put legal aliens at a disadvantage, he said.
 
He added that Russian officials assured him that they will work with Viet Nam to ensure that the new regulations do not hamper trade between the two nations.
 
Russian officials also hailed and encouraged Vietnamese efforts to build
commercial centers in their country. This will create more jobs for Vietnamese workers and increase Viet Nam's exports to Russia.